The most exciting and heart-beating DARTSLIVE2 game "BULL MASTER" you have tried before!! You will think in your mind (It is great IF the god gives me one more chance to hit more BULL), so we are now introducing our new game "BULL MASTER EXPANDED"!!
Activity 1)
Paul Lim V.S. Royden Lam - BULL MASTER EXPANDED
(DARTSLIVE ASIA Facebook page campaign only)
Invited 2 DARTSLIVE OFFICIAL PLAYER to challenge "BULL MASTER EXPANDED"
Period
From March 22nd to 29th
Campaign details
Watch the video and guess who will be the winner on "BULL MASTER EXPANDED", to get a chance to win the prize.
Prize
Darts holder (5 winners, only for Australia/New Zealand participants)
Activity 2)
"BULL MASTER EXPANDED Get Your Career High"
Period
From March 29th to April 30th
Campaign details
Play "BULL MASTER EXPANDED" to win special themes and get limited prizes
Prize
When reached certain amount of "BULL" in a single game to receive specific theme and have a chance to get the limited edition DARTSLIVE CARD.
"BULL MASTER EXPANDED" Game Rules
•Hit only Bull and Inner Singles. Inner Single areas are available only one time!
•The game ends when the player hit the white area!
•The player can try again within a certain time period after the end of the game. (Both the score and inner singles you hit will be cleared; you will start the game from the beginning.)

Steps to activate "BULL MASTER EXPANDED"
(1) Card page > Purchase Play Pass (50 Coins) at coin store (open for 24 hours only)
(2) Insert your DARTSLIVE Card with Play Pass into DARTSLIVE2
(3) Select "EXTRA" in Full Menu on DARTSLIVE2
(4) Select from "BULL MASTER EXPANDED"
(5) Insert Play fee and start the game!
Play Pass Purchase Screen (In APP)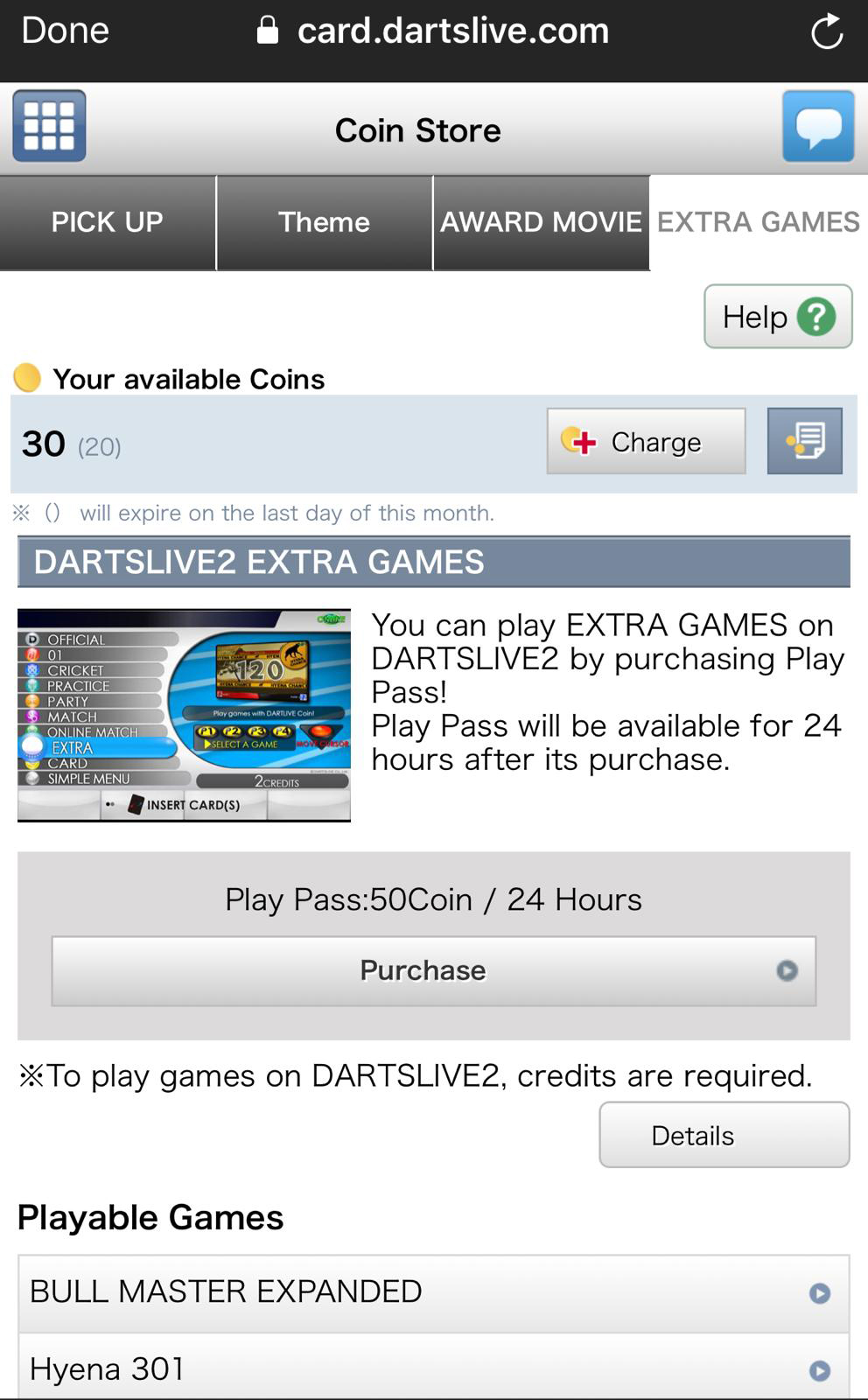 Full Menu Screen on DARTSLIVE2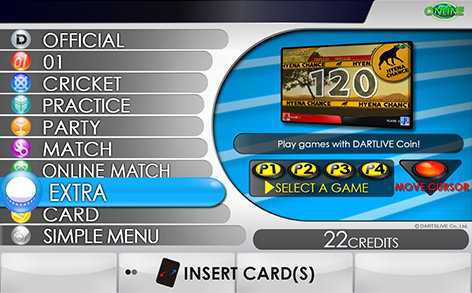 Note
1) The player must register as DARTSLIVE member (premium member, trial member or basic member), must use DARTSLIVE CARD for the game.
2) DARTSLIVE ASIA has right to modify or change the campaign contents.
3) DARTSLIVE ASIA reserves the right of final decision.
4) DARTSLIVE ASIA has right to deprive player's prize and game points of the campaign IF the fraud has been found.
EXAMPLE OF FRAUD
1) Each card can only be used by one person.
2) Manually pressing the dart board is forbidden.
3) Players have other behaviors that violate public morals or are judged by the store to be fraudulent.