Winners Announcement - Thank You for Joining COUNT-UP MORE!
2015.02.16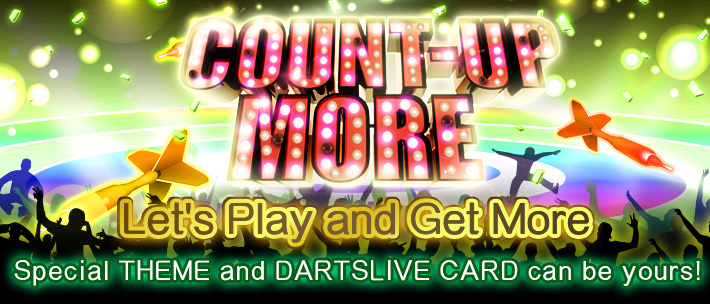 COUNT-UP MORE was finished on February 15, 2015, it has generated enthusiasm worldwide. During the campaign period, many of the master and beginner players have been granted Basic Theme* and Rich Basic Theme*. 1 standard member with the highest cumulated score and 10 lucky premium members will get the limited edition DARTSLIVE CARD.
Thank you all players for joining COUNT-UP MORE!
Let's review the result now!
Here are the lucky fellows who will get the limited edition DARTSLIVE CARD:
CARD NAME

FIRST 4 DIGITS OF DARTSLIVE CARD NUMBER

HOME SHOP

STANDARD MEMBER

#OO1#

1051

BESS

PREMIUM MEMBERS

lionking

8908

Trinity

BerSerKers

星

MIKE

2012

JDARTS MALAYSIA

何金銀

1674

GAME ON CAFE

NAGA PUTIH

1024

i Darts Hex

Alex @ Somersby

4205

i Darts Quantum

Anson Oh

1053

GATHERING PUB

ZeroPlus

♠

️

1546

TAVERN DANGA UTAMA

SinKaLinGum[

凸

]

2017

GOOD DARTS

Z jack@ShalomD

1023

LONG BAR

火焰狂龍

@

特

V

斯

1520

THE EDGE DARTS BAR
Congratulations to the above winners! The prize redemption period is February 26 to March 11, 2015. All winners should redeem the prize at their HOME SHOP within the said period**.
After this campaign, your skill in COUNT-UP should have improved a lot. Hope you can carry on having fun in playing darts! Please look forward to DARTSLIVE's next campaign soon!
*To be a winner, you have to get both Basic Theme and Rich Basic Theme first.
**Winners have to redeem the prize within the said period, late redemption will not be accepted.