AMERICA'S TOUR 2015 ENCORE COUNT-UP Ver1.1 Shop Ranking update #1
2015.05.23

The first Shop Ranking update is now available!
Is your Home Shop ranked one of the top 3 most encored shops in US and Canada?
■Shop Ranking update as of May 22nd
Among all DARTSLIVE shops in North America, West End Pub is leading,again, all USA shops with 55 games played. There are a couple of shops from Hawaii that are not far behind, however. There is also a new comer in Canada,Q1 Billiards Inc., has entered into the hunt for top shop with 53 game plays. i Darts Toronto is still close with 45 games played. The top 3 shops with the most number of game played of each country will receive the special DARTSLIVE AMERICA'S TOUR prize pack. The more you play, the more chances to win prizes for you and your home shop!!

■It's about time! AMERICA'S TOUR 2015 STAGE 2 Minnesota!!
AMERICA'S TOUR is set to start the 2015 season next weekend. STAGE 2 Minnesota will be held at Biff's Sports Bar & Grill from June 26-28th.
Check out the schedule for a great weekend of darts!
→Visiit the official website of AMERICA'S TOUR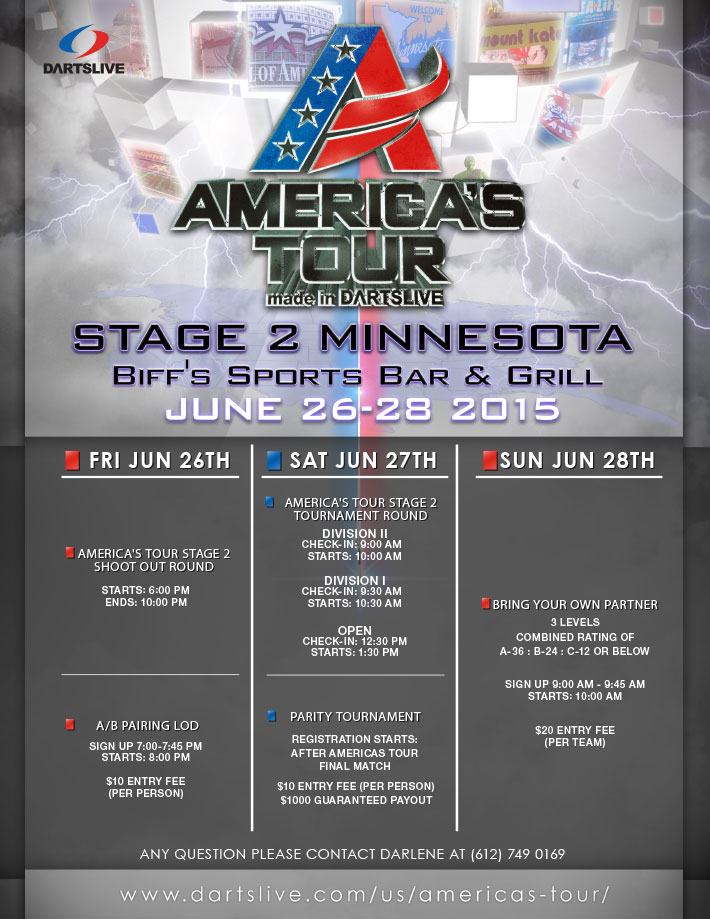 Follow us @