Enjoy viewing your DARTSLIVE card data on iPhone or Android.

iPhone / Android App DARTSLIVE
DARTSLIVE Official App. is now available! This app gives you an easy access to your darts performance data and a feature that helps you communicate with your darts comrades.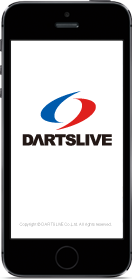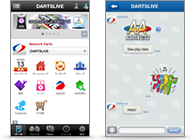 Data
Your darts performance data is available for viewing anytime, anywhere.

FriendsBETA
People with whom you play darts become your "Friends"! Play darts and make more friends.

Hello!BETA
Send short messages and stickers to your "Friends" for easy and quick communication.

News
Get the latest DARTSLIVE information!
* All Hello! and Friends features can be used for free as β service is now ongoing.
* Premium Membership is required to view the play data.
* Click here to see HELP information on iPhone and Android app.
CAUTION
●This is an IC card designated for DARTSLIVE service.
●Do not bend or expose this card to magnetic objects or liquids.
●DARTSLIVE bears no responsibility for lost or damaged IC cards or data.