AMERICA'S TOUR STAGE 1 Entry Process #3 & Entry of STAGE 2 Indiana is NOW OPEN!!
2014.04.01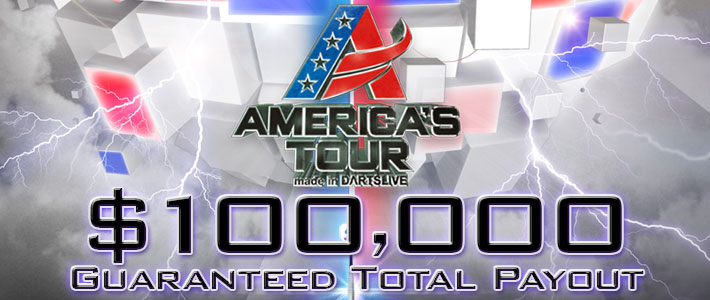 88 ENTRIES, 40 SPOTS LEFT FOR AMERICA'S TOUR 2014 STAGE 1 TEXAS!!
The 3rd entry list process of AMERICA'S TOUR 2014 is now announced.
Currently 88 players have made their entry, and there are still 40 spots are available for STAGE 1.
STAGE 1 will be held at Rob's Billiards & Sports Pub from April 18th to 20th.
Friday night will be the SHOOT OUT Round, Saturday will be the Tournament Round and Sunday will have an In-House Tournament hosted by Rountree Entertainment.

*For more details, please visit the official website of AMERICA'S TOUR
The winner of each STAGE of AMERICA'S TOUR will be rewarded with US$ 4,000 prize money and the winner of the Annual Point Ranking will be rewarded with another US$ 3,000.
WHO WILL BECOME THE FIRST PLAYER TO GRASP HIS/HER "ROAD TO GLORY"?
*Go directly to the entry page of STAGE 1 Texas


ENTRY OF STAGE INDIANA IS NOW OPEN!!
The entry of STAGE 2 Indiana has opened at the same time.
STAGE 2 will be held at Taps & Dolls from May 9th to 11th.
*Go directly to the entry page of STAGE 2 Indiana
Limited time offer for AMERICA'S TOUR players!!
Limited time offer from Hampton Inn Indianapolis Downtown for players taking part in AMERICA'S TOUR STAGE 2!
Room rate will be available at US$ 109.00 (usual price US$ 200.00) for AMERICA'S TOUR players by April 9th!!
If you're not sure where to stay, don't miss this limited offer!
■To make reservations directly
Please click the link below!
http://hamptoninn.hilton.com/en/hp/groups/personalized/I/INDDTHX-DAR-20140509/index.jhtml
◆Learn more about AMERICA'S TOUR
◆Visit AMERICA'S TOUR Official Facebook page
◆"Like" our DARTSLIVE NORTH AMERICA Facebook page!