Experience DARSTLIVE at ADA National Championship XXIII
2014.05.12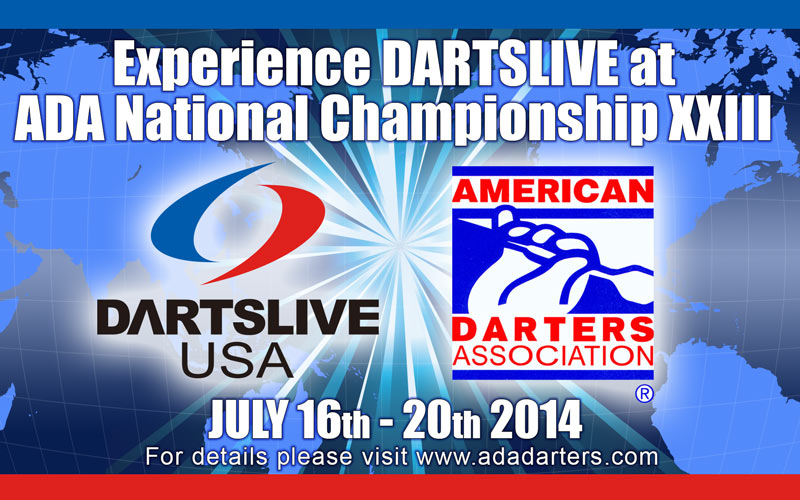 The American Darters Association (ADA), has over 3,000 members all across the USA that are playing in leagues which will qualify them for the >ADA National Championships. The ADA knows how to put on a show and is adding a little twist to their finals this year...
The ADA and DARTSLIVE USA are proud to announce that DARTSLIVE will be providing the entire ADA Championships with DARTSLIVE2 dartboards!
The tournament room will truly be a place to be. With 500-700 members in attendance, everyone will have an opportunity to learn all about DARTSLIVE systems and services, plus the added bonus of getting to play on DARTSLIVE dartboards throughout the entire event!! Representatives will be on hand to get players set up with their very own DARTSLIVE member's cards. The ADA and DARTSLIVE will be providing players with a top notch venue and events, combined with world-class dartboards to create unforgettable experience for everyone!
Now entering our third year in North America, DARTSLIVE USA offers something for dart players of every level. By creating events, promotions and entertainment communities that attract beginner, casual, recreational and advanced players, DARTSLIVE is providing something for each and every player and future player. With ADA having a similar mindset, our partnership continues as we work together to build the dart industry in North America and the World!!
Here is what Chris Fagin from the ADA has to say:
"When I first watched a match on YouTube from THE WORLD in Hong Kong, I was surprised at how big this sport is over there.
This is serious business, with serious money involved. They have a huge crowd of spectators watching as they shoot. All the players are wearing custom-made dart shirts with their sponsors names and logos. There is an announcer and they shoot their matches on an elevated stage in front of the crowd.
They shoot at dartboards that are lit up like the Vegas Strip which flash the results of each dart as you throw on a big screen. And this is no silent dart match, the crowd is loud and huge speakers that amplify the sounds of the game surround the machines. This is big time darts."
See you all at ADA National Championship XXIII, GAAAAAME ON!!!