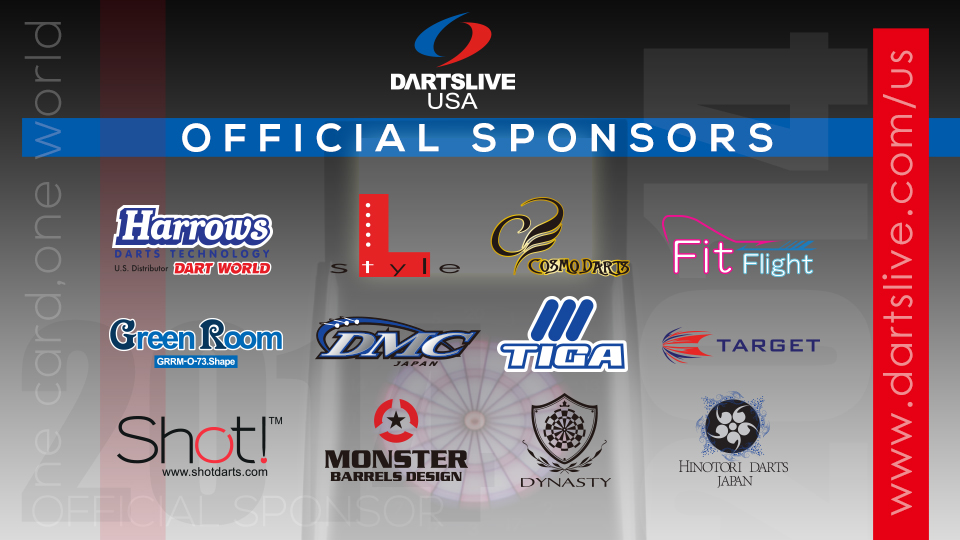 We are pleased to announce the sponsors who will be supporting the events to be hosted by DARTSLIVE USA during 2014.
COSMO DARTS, DMC JAPAN, Dynasty Inc., Green Room, Harrows Darts, Hinotori Darts Japan, L-Style , MONSTER BARRELS DESIGN, Shot! Darts, Target Sports Ltd and TIGA Darts (*in alphabetical order) will be our official partner through year 2014.
We appreciate the support and understanding from all of our sponsors.
Robert Heckman, COO of DARTSLIVE USA, would like to share the below message with our sponors;
"On behalf of DARTSLIVE USA, INC., I would like to publicly thank all of our "Official Sponsors" for supporting our 2014 events! As we enter our third year of operations in North America, we will continue to help grow the darts industry through DARTSLIVE branded services and fully promoting our Official Sponsor product brands simultaneously.
DARTSLIVE is an entertainment organization; our mission is to create happiness for the world through and with our communities. We want to create a lasting social experience, to bring people together from around the world and make new friends through our network service and real event promotions.
DARTSLIVE USA will start 2014 off with some incredible events, first with the AMERICA'S TOUR. The AMERICA'S TOUR will have six tour stops starting in Texas, then to Indiana, Washington, Wisconsin, Hawaii and ending at "i Darts Toronto", our very first i Darts franchise club in North America.
We will also be hosting the SUPER LEAGUE Season 2 Fiesta finals in Las Vegas, which has grown to over 1,100 players this season! We will end the year with a BIG BANG, with the USA OPEN, hosted in conjunction with the live streaming of THE WORLD 2014 STAGE 5 in Las Vegas.
These are just but a few of the services and promotions we will be doing throughout 2014. DARTSLIVE events and promotions are possible because of the great support from our Official Sponsors - THANK YOU!"