Jeremiah Miller wins STAGE 2 Indiana!!

AMERICA'S TOUR STAGE 2 Indiana was held at 247 Sky bar from May 9th to 11th. A total of 69 players were involved in STAGE 2 competing for their "Road to Glory".
■May 9th (Sat) SHOOT OUT Round: Larry Butler scores 9,462 pts

The SHOOT OUT Round was held on May 9th, where STAGE 1 winner Larry Butler (Ohio) scored 9,461 points to secure his #1 seeding spot for the Tournament Round. The SHOOT OUT Round of STAGE 2 also became a fierce competition, as besides Larry Butler, there were also 4 players who scored more than 9,000 points which was Kyle Liddeke (#2, 9,314 pts), Jeremiah Millar (#3, 9158 pts), Adam Klinefelter (#4, 9,103 pts) and Leonard Gates (#5, 9,094 pts).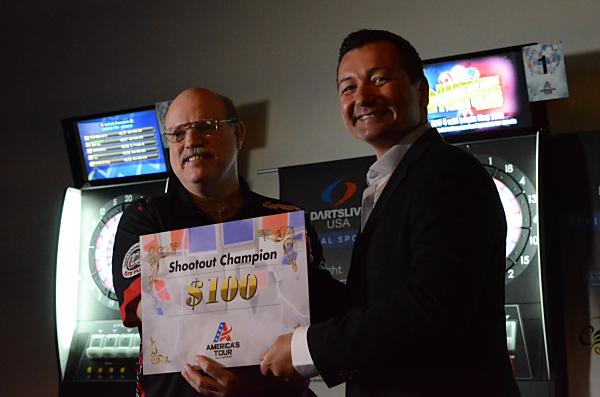 ■May 10th (Sat) STAGE 2 Tournament Round

The Tournament Round held on May 10th was also full of highlights.

2013's Annual winner #1 seed Larry Butler met #9 seed Dennis J. Sayre (Ohio) at the quarter final, which Dennis J. Sayre won the match. This was the first time Larry Butler lost on a match other than the final.
The final match was played between #3 seed Jeremiah Millar (Ontario, Canada) and STAGE 1's runner-up Ramiro Guevara (Texas). The level of the final match became extremely competitive, where the Standard Cricket games became exchanges of 9 marks. The match could not be decided until the final leg, which Jeremiah Millar won by 4-3.

This STAGE was the first participation to AMERICA'S TOUR for Jeremiah Millar. Jeremiah Millar became the only player to win a STAGE of AMERICA'S TOUR besides Larry Butler and Benjamin Dersch. Along with Jeremiah Millar and Ramiro Guevara, Raymond Carver, Dennis J. Sayre, Benjamin Dersch (Wisconsin), Randy Van Deursen (Illinois), Larry Butler and Lee Jones (Indiana) begame the Elite 8 of STAGE 2.

Raymond Carver has also extended his record as the only player to advance to the Elite 8 for every STAGE since 2013's STAGE 1.

According to the result from STAGE 1 & 2, Ramiro Guevara is now leading all players with 24 points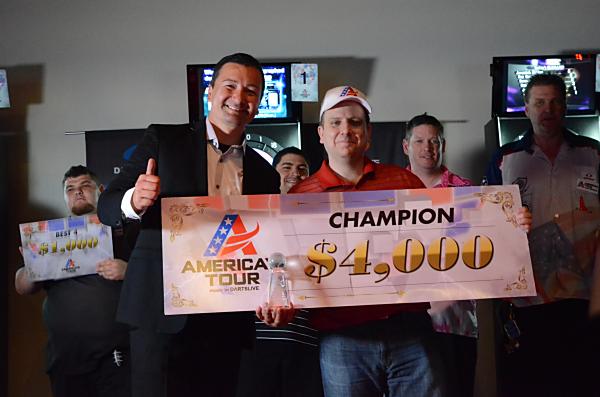 ■Entry period of STAGE 3 Washington

The entry period of STAGE 3 Washington is scheduled to be opened from May 18th. STAGE 3 will be held at Swinomish Casino & Lodge ol from July 11th to 13th. Information will be updated on our official website and Facebook page.