AMERICA'S TOUR 2015 STAGE 2 ENTRY STARTS!!

The Entry Period for AMERICA'S TOUR STAGE 2 Minnesota has opened up today until June 21st!
Stage 2 will be held at Biff's Sports Bar & Grill in Spring Lake Park, MN, from June 26-28th.
A total of $71,500 will be paid out over the course of all 5 Tour stops. Don't miss your chance of becoming a part of this year's AMERICA'S TOUR!!

Entry can be processed at the entry page of AMERICA'S TOUR Official Website for the OPEN Division.
The OPEN Division will be available ONLINE ONLY. 64 positions available, So Don't Delay!
The Operator will be taking registrations for Division I & II. Space is limited. Make sure you contact the Operator to reserve a spot for yourself.
The contact information for the Operator is: Superiorvendinginc.com and follow the link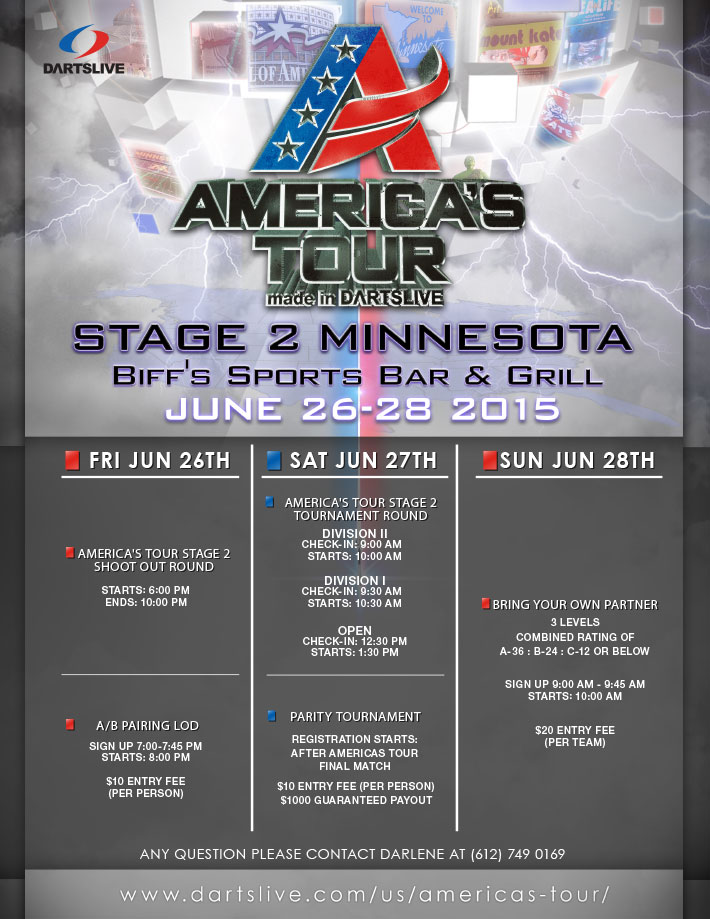 **Friday night will be the SHOOT OUT Round for seedings. Saturday will be AMERICA'S TOUR tournament round and Sunday will be Operator's House tournament.Information of Sunday will be updated on our official website and Facebook page.
Follow us @