Almost a month ahead! SUPER LEAGUE Season 3 Fiesta!!

Almost a month ahead! ARE YOU READY FOR SUPER LEAGUE SEASON 3 FIESTA!!
SUPER LEAGUE Season 3 Fiesta is right around the corner! After 14 weeks of SUPER LEAGUE, it's time to get your team to Westgate Las Vegas Resort & Casino for some fun and some serious cash prizes!
Teams from all over North America will meet each other to decide the champion of SUPER LEAGUE Season 3!
If you haven't reserved your hotel rooms yet, DON'T MISS THE SPECIAL ROOM RATE OFFER FROM THE NEW EXCLUSIVE SUPER LEAGUE HOST THE WESTGATE LAS VEGAS RESORT & CASINO!!
◆Event & Hotel Information
■Event information
▼Event: SUPER LEAGUE Season 3 Fiesta
▼Date: Jun 5th – 7th, 2015
▼Venue: Westgate Las Vegas Resort & Casino
▼Address: 3000 Paradise Road, Las Vegas, NV 89109
▼Tel: 800-7327117
■Reserve your room NOW!
▼Weblink: https://resweb.passkey.com/go/SDART5
▼Group code: SDART5R
-Premium Rooms are available at $55 per night.
-Signature Rooms are available upon request for an additional $20 per night
Resort fee is optional… But, here is what you get!!
$22.00 plus 12% tax ($24.64 daily) Includes:
-Wireless internet access – TWO devices throughout the resort (excludes convention center)
-Free Local/800 calls
-Access to Cardio room – two adults per day
-Use of in-room safe
-$5.00 Resort credit towards a future stay at the Westgate Las Vegas Resort & Casino.
By providing the group name, individuals will also be able to make reservations by calling 1-800-635-7711 between the hours of 6:00am to 11:00pm daily.Reservations must be made on or before the cut-off date of May 15, 2015 in order to be eligible for the group rate.
Current Rates are averaging $66.97 per day without the group rate.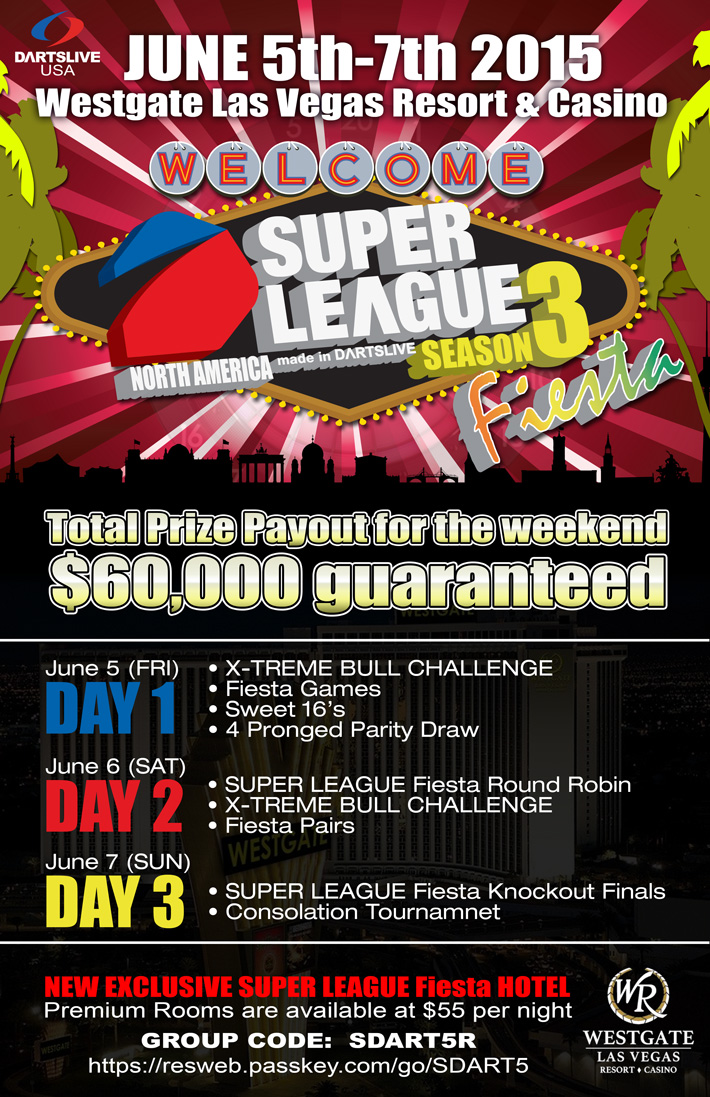 →Learn more about SUPER LEAGUE
→View the result of Season 2 Fiesta
→Check the photo album on DARTSLIVE North America Facebook page
Follow us @