Week #3 Updates for December's "USA OPEN Encore COUNT-UP"

Last 2 weeks! December's "USA OPEN Encore COUNT-UP"!!

Half a month has passed since the start "USA OPEN Encore COUNT-UP" Campaign.
Currently more than 700 players have won the 400 point THEME and 39 players have won the Hidden Number THEME in North America. If you find a friend who already has the Hidden Number THEME, make sure to ask your friend which number he ended the game!
■Shop Ranking update as of Dec 19th
West End Pub (CO) is now leading all shops in USA with 194 game plays, and i Darts Toronto (ON) is leading all shops in Canada with 437 game plays.
The shop with the most number of game plays will be awarded with a gift set from DARTSLIVE. The more you play, the more chance your home shop winning the prize!!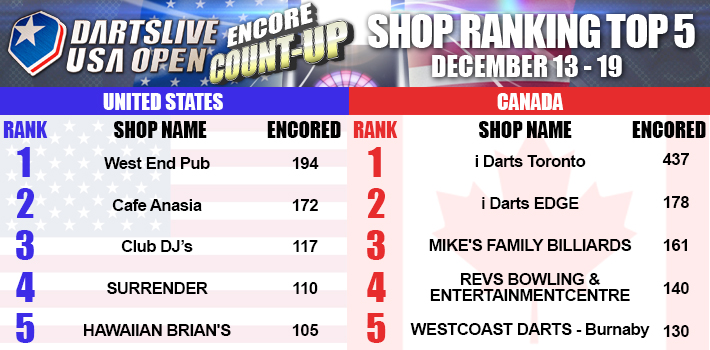 *The ranking is calculated according to the total game play number of USA OPEN Encore COUNT-UP as of Dec 19th.
■Did you get the Campaign limited THEME???
Hints are posted on websites and webpages related to USA OPEN 2014. Some players are already exchanging their information ons SNS, so find out where the hints are posted!!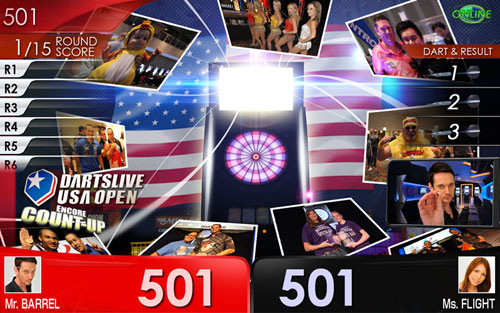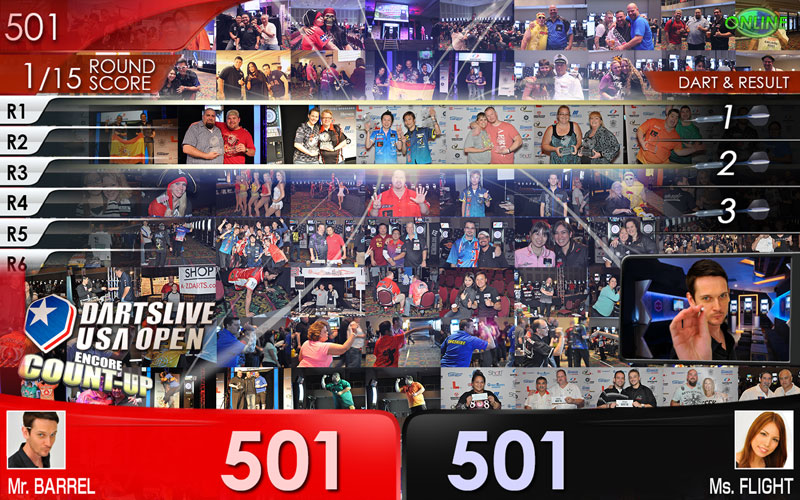 ■Campaign Information
▼Campaign Period:
December 1st – December 31st, 2014
▼How to play USA OPEN 2014 Encore COUNT-UP
You can find the Encore COUNT-UP in the Simple Menu or from the "Practice" category in the Full Menu.
Make sure you have a registered DARTSLIVE CARD, and your personal DARTSLIVE CARD PAGE for checking the Campaign version THEME!
▼What can you win?
1) Campaign THEME
There are different THEME's that you will have a chance to win during this campaign.
Each THEME will have a different condition for winning it, and the conditions will be updated during the month of December.
*Information will be updated on our official website & DARTSLIVE North America Facebook page.
HIT MORE THAN 400 PTS!!
Anyone has a chance of getting this THEME.
All you need to do is to score more than 400 points in USA OPEN 2014 Encore COUNT-UP!

Hidden Number THEME
We are revealing the image of the hidden THEME. If you hit a certain number in USA OPEN Encore COUNT-UP, the THEME will be yours.
There will be several numbers to get the THEME, so share your information with your friends when you get the Hidden Number THEME!
There are currently lucky players who've already won the Hidden THEME in North America!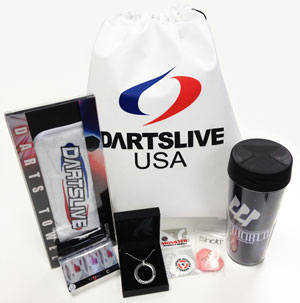 ▼Shop Ranking Prize
The shops with the most number of USA OPEN 2014 Encore COUNT-UP game plays will be rewarded with a gift set from DARTSLIVE. The gift set contains;
1) THE WORLD Tumbler
2) DARTSLIVE Fingertip Towel
3) DARTSLIVE Ring Necklace
4) THE WORLD L-Style Flight
5) Monster Flight
6) DARTSLIVE Gift Bag
Follow us @