Just a week till USA OPEN 2014, hurry up for your entry!!

■Bring your Halloween style at USA OPEN 2014!
Don't Forget to bring your HALLOWEEN COSTUMES to be featured in USA OPEN ENCORE COUNT-UP!!
Make sure to bring your Halloween costumes to USA OPEN 2014, because you will have a chance to be featured in USA OPEN ENCORE COUNT-UP!!
Encore COUNT-UP will be back at USA OPEN 2014. If you see our cameraman posing to take a photo, that's the chance you'll be displayed on the ENCORE COUNT-UP!
SO, DON'T FORGET TO BRING YOUR FAVORITE HALLOWEEN COSTUMES!!!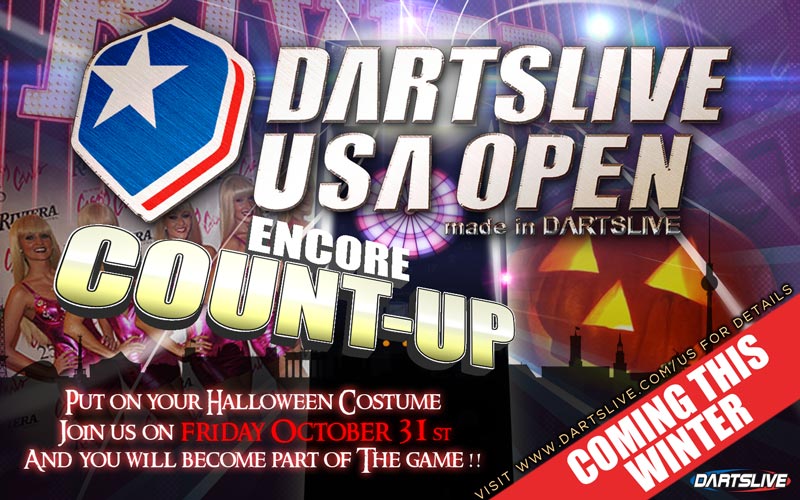 What is Encore COUNT-UP?
ENCORE COUNT-UP is a new edition of COUNT-UP on the DARTSLIVE2 boards. This new COUNT-UP will be featuring the photos which were taken at the event.
When you play ENCORE COUNT-UP, different photos will be displayed on the screen each time you throw a dart.
If you played "SUPER LEAGUE Season 2 Fiesta ENCORE COUNT-UP" in August, you know ENCORE COUNT-UP is!
⇒Learn more about Fiesta Encore COUNT-UP
■Entry list updates are available at our USA OPEN page
Almost only a week away till the Weekend of Darts starts at Las Vegas!
330 players from 11 countries are IN for USA OPEN 2014! Check out the latest entry list!
USA OPEN 2014 will be held at Riviera Hotel & Casino (Las Vegas, NV) from October 31st to November 2nd with THE WORLD STAGE 5 Las Vegas being held at the same weekend.
We have currently received 330 players entries from 11 countries around the world! (as of October 20th). Entry spots are still available at this moment, so if you're looking for a weekend full of darts, this is a MUST GO!!!
ALSO, PLEASE MAKE SURE YOUR DOUBLES PARTNER HAVE PROCEEDED HIS/HER ENTRY!!!
Come and spend the weekend with DARTSLIVE in the fabulous Las Vegas, Nevada at the Riviera Hotel and Casino!
⇒Visit the official webpage of DARTSLIVE USA OPEN 2014
⇒View the entry list as of October 20th
■Tournament Information
Where: Riviera Hotel and Casino in Las Vegas, Nevada
When: October 31st – November 2nd Come out and celebrate Halloween in Vegas
Who: **You do not need any qualifications, just come, play and enjoy!
Why: How about some fun in Vegas and a $100,000 Guaranteed payout!?
■How much will it cost you?
For all USA OPEN Events (3 days)
$75 Entry Fee for Premium Members
$125 for Standard and Non Members
**Players without a DARTSLIVE rating or some verifiable PPD/MPR Average will automatically be required to play the OPEN FLIGHT."
Follow us @