Tournament result of STAGE 3 Washington and Entry Opening for STAGE 4 & 5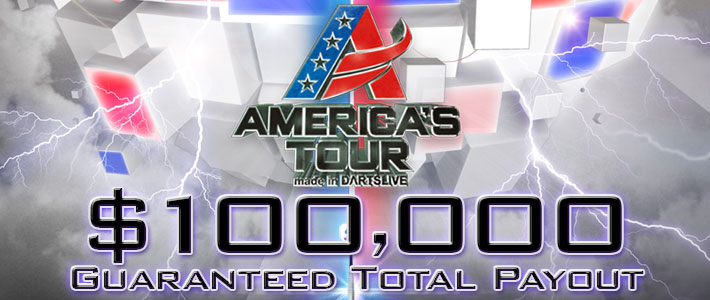 AMERICA'S TOUR STAGE 3 Washington was held at Swinomish Casion & Lodge from July 11th to 13th. A total of 66 players participated in STAGE 3 to win their "Road to Glory".
◆SHOOT OUT RESULTS
On the SHOOT OUT Round held on July 11th (Fri), Alex Reyes (Texas) lead all participants with 9841 points to secure the #1 seeding spot for the Tournament Round. The competition of the SHOOT OUT Round became extremely fierce, as the points difference between #1 and #2 was less than 50 points and there were a total of 6 players who've scored more than 9,000 points including A.Reyes. Following A. Reyes, DJ Sayre (Ohio) won the #2 seeding spot with 9799 points, Shaun Narain (Alberta, CA) ranked as #3 with 9,638 points, Eugenio Cano (Washington) as #4 with 9601 points, Rich Sutton (Washington) as #5 with 9335 points and Paul Lim (California) as #6 with 9142 points.
◆TOURNAMENT RESULTS
The Tournament Round was held on July 12th (Sat). Much intensity was felt as the room saw the grueling final match between Paul Lim and Ray Carver (Ohio). Although this was the second STAGE which Paul Lim took part since 2013's STAGE 1, by winning the final 7th leg, Paul became the winner of STAGE 3.
Following P.Lim and R.Carver, David Fatum (Phoenix), Benny Dersch (Wisconsin), Alex Reyes, DJ Sayre Jr, Shaun Narain and Chris White (California) became the Elite 8 of STAGE 3.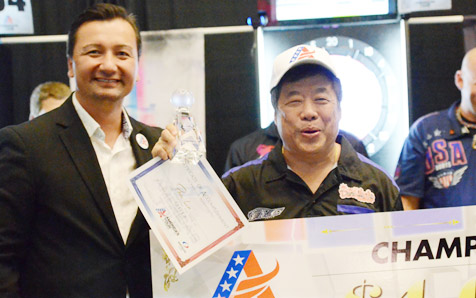 The Annual Point Ranking is now updated according to the result from STAGE 3. Among all players, Ramiro Guevara Jr (Texas) stays a top with 28 points, followed by Ray Carver (27 points) and Larry Butler (25 points).
Entry period of STAGE 4 & 5 is now available!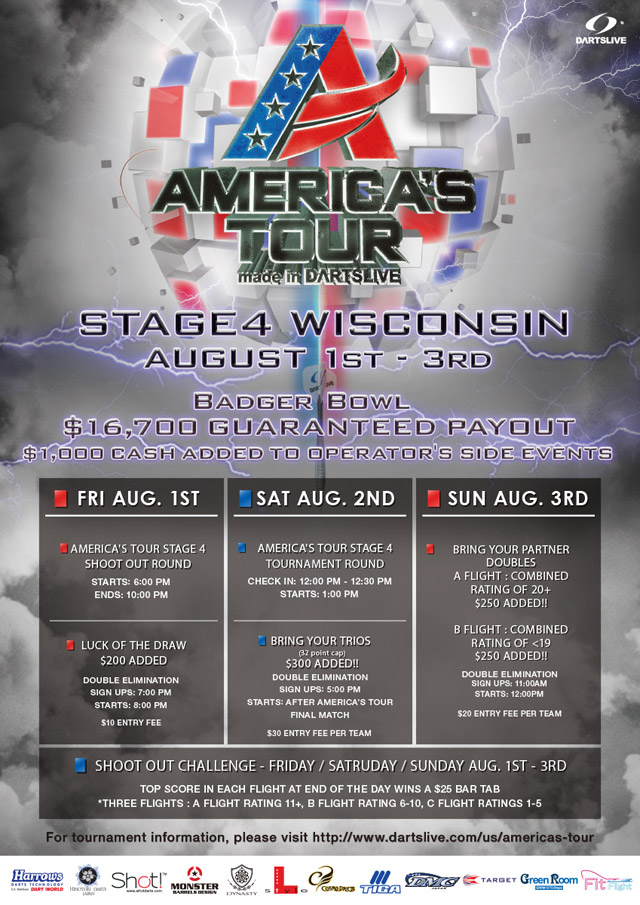 ◆Entry period of STAGE 4 Wisconsin & STAGE 5 Hawaii
The entry period of STAGE 4 Wisconsin and STAGE 5 Hawaii are now available. STAGE 4 Wisconsin will be held at Badger Bowl from August 1st to 3rd. STAGE 5 Hawaii will be held at Hawaiian Brian's August 29th to 31st. The entry of both STAGES will be closed once the number of participants reaches 128 players.
Friday night will be the SHOOT OUT Round for seeding, Saturday will be AMERICA'S TOUR Tournament Round and Sunday will be Operator's House Tournament. *Information of the side events for STAGE 4 & 5 will be updated on our official website and Facebook page.
→Go directly to the entry page of STAGE 4
→Go directly to the entry page of STAGE 5
→CLICK HERE to learn all about AMERICA'S TOUR!
Follow us @