New Campaign ʺDARTSLIVE FIGHT CLUBʺ Coming Soon!!!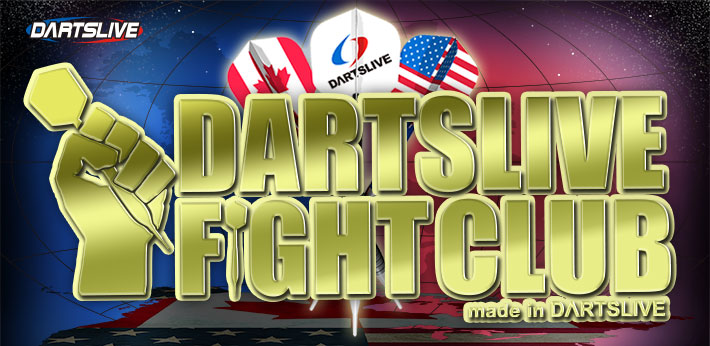 DARTSLIVE will be releasing a new content ʺDARTSLIVE FIGHT CLUBʺ in the upcoming month!
Beginning from February, GLOBAL MATCH will change to ʺDARTSLIVE FIGHT CLUBʺ on every 3rd Fridayof the month until May.
■ What is ʺDARTSLIVE FIGHT CLUBʺ?
ʺDARTSLIVE FIGHT CLUBʺ is new content which will be opened every month for a limited time period. During the time when DARTSLIVE FIGHT CLUB is open, GLOBAL MATCH will only be available to play against players in North America.
Players will be competing against each other according to the points distributed by the result of each match. The winner of each match will be rewarded 30 points, while 10 points will be rewarded for non-winners and draw games (*draw game occurs when two players have equal amount of wins and losses against each other).
Points will be added up for both Individual and Area rankings.
(*information of area and prizes will be released soon)
■ How to join DARTSLIVE FIGHT CLUB
1) Players must possess a DARTSLIVE CARD to join this campaign.
2) Please select ʺDARTSLIVE FIGHT CLUBʺ from the DARTSLIVE Menu to join this campaign.
■ Rules
1) This campaign is only available for online matches.
2) Points will be distributed to players, according to the result of each match. Winner will receive 30 pts, non-winners will receive 10 pts for each game, and in the result of a draw game, both players will receive 10 pts.
3) 701 and STANDARD CRICKET will be the selected game for this campaign. The first DARTSLIVE FIGHT CLUB will be held on February 14th.
Check out the schedule below and see what time this campaign will be held!
■ Schedule of DARTSLIVE FIGHT CLUB
#1 February 14th
#2 March 14th
#3 April 18th
#4 May 16th
■DARTSLIVE FIGHT CLUB time schedule
HST 13:00-01:00
AST 14:00-02:00
PST 15:00-03:00
MST 16:00-03:00
CST 17:00-04:00
EST 18:00-05:00
*GLOBAL MATCH will be replaced by DARTSLIVE FIGHT CLUB during the above date and time.
More information will be updated, so keep your eyes on our website and DARTSLIVE NORTH AMERICA Facebook page
■ Notes
▼Regarding Rules
1) All matches under this campaign will be played with No Handicap.
2) When there are multiple players with the same points in the ranking, the player who reached that point total first will be ranked higher.
3) When the board judges that there is a finger press* during the match, points will not be added to the player.
4) DARTSLIVE USA possess the authority to regulate a player when his/her behavior is considered to interfere with the campaign.
5) When a player's behavior is considered as violating moral, DARTSLIVE USA will treat the player's behavior as cheating. When a player is caught cheating, his/her point total during the campaign will be terminated.
*using his/her fingers to score by pressing the target segment
▼Examples of Cheating
1) When multiple players play with a single DARTSLIVE CARD.
2) When a single player plays Doubles by his/herself.
3) When a player plays a match by using his/her fingers to score by pressing the target segment .
4) When a player steps over the throw line before releasing the dart.
5) When a player loses a match intentionally to add points to the opponent.
6) When a player intentionally cuts the network to cancel the match.
7) When a player uses a card with its rating intentionally dropped.
8) When a player is substituted by another player during a match.
▼Others
*Please note that GLOBAL MATCH will be unavailable during the DARTSLIVE FIGHT CLUB Campaign time schedule.