Washington Gears Up for SUPER LEAGUE Season 2

It's SUPER LEAGUE fever in Washington!
Right now a strong team of DARTSLIVE operators are winding down their SUPER LEAGUE Practice Session and winding right back up for the start of SUPER LEAGUE Season 2.
SUPER LEAGUE Season 2 is a 14 week league that players compete with their strategy built teams to try and dominate the competition week after week. All of the battling leads to the greatest dart league final and party ever…SUPER LEAGUE Fiesta. SUPER LEAGUE Fiesta will be held on June 6-8, 2014 at Riviera Hotel and Casino in fabulous Las Vegas!
Digital Music Systems expects to double their team count from the SUPER LEAGUE Practice Sessions due to the player's great reaction to the fun filled league. Who will be the SUPER LEAGUE Season 2 Champions?
Will it be McClouds "Sure Shot"? They won the season ending league final and plan to stay together to compete against the tough competition from all across North America. Will they reign victorious or will there be another team that will try knock them of course from achieving their goal?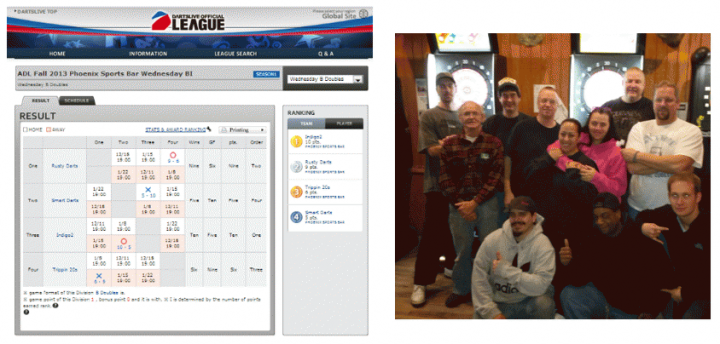 We will see……..
Join SUPER LEAGUE Season 2 by contacting your nearest DARTSLIVE location or local operator and join the action. SUPER LEAGUE is made for players of all skill levels so build your team today and sign up for SUPER LEAGUE Season 2.
Gaaaaaaame ON!
>>Find us on our official Facebook page!
>>What is SUPER LEAGUE??
>>How to join SUPER LEAGUE??
>>Q&As for SUPER LEAGUE which might help you