DARTSLIVE USA and ADA Team Up!!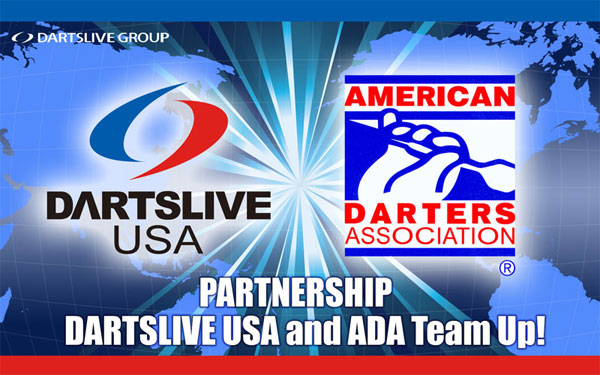 Extra, Extra, Read all about it!
DARTSLIVE USA is very excited to announce our partnership with the American Darters Association (ADA).
Both DARTSLIVE and the ADA have parallel goals and ideas, the most important is to grow the industry and make darts FUN in North America!
DARTSLIVE is an entertainment company, utilizing darts and our services to bring the "Virtual World and the Real World" together on to one platform, the DARTSLIVE2 machine.
Real time stats, player data, instant updates, the ability to play players from all over the world in 16 different countries, it is all at your fingertips when you have your personal DARTSLIVE CARD, smart phone APP and use our website.
The ADA offers their players the chance to play in fun action packed leagues that lead to a great NATIONALS, which just finished in July totaling $55,000.
Players also get to enjoy Midwest Regionals hosted by the ADA this year December 6th – 8th. The ADA has the same views on growing the sport of darts and allows Operators to run leagues any day of the week to allow flexibility for all players.
Get your league games in and you are able to enjoy all of the ADA events throughout the year.
The ADA also combines the both Steel and Soft Darts into their events, giving the best of both worlds at one venue!
There you have it! This partnership is ready to take darts to a new level.
Both companies have a similar mindset about increasing the amount of players in the darting world.
I don't know about you, but we believe North America is in for a great treat this year and for many years to come!
GAME ON North America!!!
Looking to play some ADA leagues?
Visit the ADA website for full info at:
http://www.adadarters.com/news/2013/06_28_2013%20Dartslive.html