JUNE COUNT-UP MANIA Week #1 - Competition is Fierce!

Oh Boy! Competition is intense for the prizes that will be given away this month. Many autographed prizes will be given away and here are the results SO FAR in the NATIONAL COUNT-UP leader board: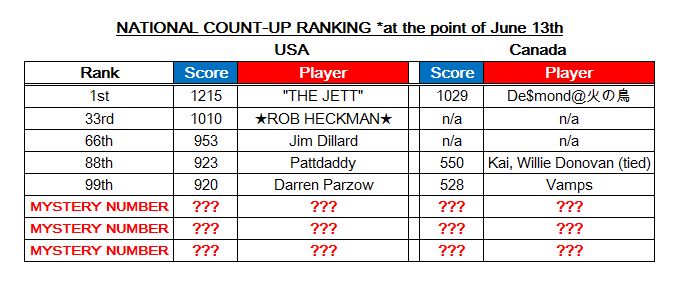 Which one of these spots at will win our GRAND PRIZE set of Scott Kirchner darts?!
Let's play COUNT-UP!
How to join Campaign
◆ Campaign Game: COUNT-UP
◆ Players must possess a valid DARTSLIVE CARD
– Players' DARTSLIVE CARD must be in valid membership period, and not expired.
– Please note that if the membership period is expired, your game data will no be recorded
◆ Campaign Period: June 10th – June 29th, 2013 (until maintenance period)
*For more information of this month's Campaign, please click here!
We would like to thank Dartbrokers for providing the Grand Prize Scott Kirchner darts and thank you to L-style for providing the sets of L-style Signature Flights.