June COUNT-UP Mania - USA & CANADA

Everybody LET'S PLAY COUNT UP!
COUNT-UP Mania Campaign is back!!
During the dates listed below, rank in one of these places in the NATIONAL RANKING of USA or Canada and win one of the prizes that will be given away!
Hit one of the mystery numbers randomly selected by DARTSLIVE USA and win one of these prizes as well!!
Win our GRAND PRIZE Scott Kirchner DMC "DRAKEN" Darts provided by Dart Brokers!!
You can also visit the website of Dart Brokers by clicking the image below.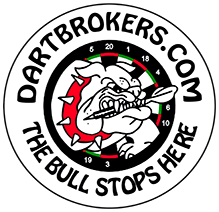 How to join Campaign
◆ Campaign Game: COUNT-UP
◆ Players must possess a valid DARTSLIVE CARD
– Players' DARTSLIVE CARD must be in valid membership period, and not expired.
– Please note that if the membership period is expired, your game data will no be recorded
◆ Campaign Period: June 10th – June 29th, 2013 (until maintenance period)
◆COUNT-UP Ranking will be available for both USA and Canada, Weekly Ranking are scheduled to be updated.
◆Prize (*to be announced)
1st – ???
33rd – ???
66th – ???
88th -???
99th-???
MYSTERY NUMBER – ???
MYSTERY NUMBER – ???
MYSTERY NUMBER – ???
Win some of these exclusive autographed prizes provided by our USA SUPER DARTS competitors!
The rule is simple. If you are at the spot listed above, you'll win the prize.
So if there's a prize you want, make sure where you are on the official DARTSLIVE COUNT-UP Ranking of USA and Canada.
Ties in the NATIONAL RANKING list will result in a lucky draw between the people achieving the required score.
Winners will be announced in the first week of July.
Prizes will be sent out to the DARTSLIVE Operator of shop the score was achieved at in the first week of July.