"THE WORLD" Promoción Match Medley- Resultados !!
Estos son los resultados finales de la Promoción Match Medley de "THE WORLD"! Los ganadores son los siguientes. Vean quien gano el uniforme de Paul Lim!
Lista de premios
1ro -uniforme de Paul Lim + THE WORLD 2012 DVD
2do a 10º – termo de THE WORLD 2012 + THE WORLD 2012 DVD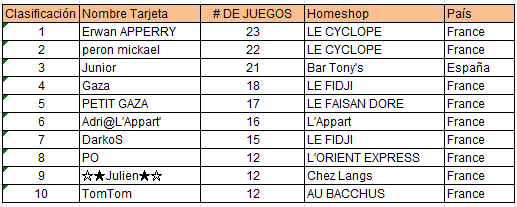 «Cómo recibir premios»
Los premios mencionados serán entregados a MI LOCAL que se muestra al lado del "Nombre de Tarjeta" del ganador.
Se les pide a los ganadores de premio, recoger su premio en MI LOCAL respectivo después de THE WORLD Stage 3.
* El premio será entregado a MI LOCAL a finales de junio
* Por favor lleve su TARJETA DARTSLIVE a su local para recibir su premio.