【SOUTH EAST ASIA TOUR 2018 】TARGET STAGE 1 Quick Announcement

SEA TOUR is the Premier darts tournament created to find the best soft tip darts player in the Southeast Asia (S.E.A.) Region. It is hoped that this tournament can create plenty of opportunities for darters in this region to interact, exchange ideas, encourage each other and build strong bridges of friendship across this region with its varied cultures, languages and traditions.
On 10 June 2018, a new champion has been born in this brand new tournament specially made for players of the Southeast Asia region.
At the end of an intense battle, the victory went to Paul Lim (Singapore)!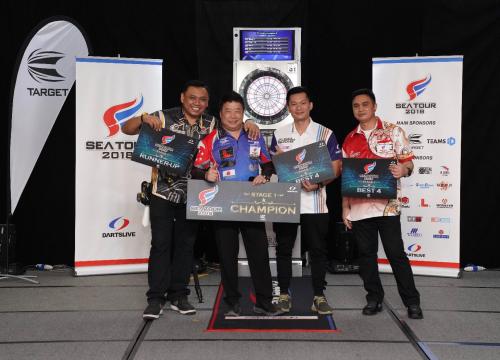 【CHAMPION】
Paul Lim (Singapore)
【RUNNER-UP】
Harith Lim (Singapore)
【BEST 4】
Ray Ling (Malaysia)
Ronald Briones (Philippines)
【BEST 8】
Ignatius Tan JJ (Singapore)
Yap Chun Sin (Malaysia)
Tan Jenn Ming (Malaysia)
Pau Jin Kuang (Singapore)
【BEST 16】
Emerson Viteno (Philippines)
Terence Thomas Tan (Singapore)
Leslie Lee (Singapore)
Edison Phung (Malaysia)
Froilan Soco (Philippines)
Tirja Suparjo (Indonesia)
Tan Phuay Wei (Singapore)
Ian Ang (Singapore)
【TOP LADIES】
Wan Huixian (Singapore)
Congratulations to all winners!
Click here for SEA TOUR website