SUPER LEAGUE WORLD CHAMPIONSHIP 2019 - Team Malaysia Selection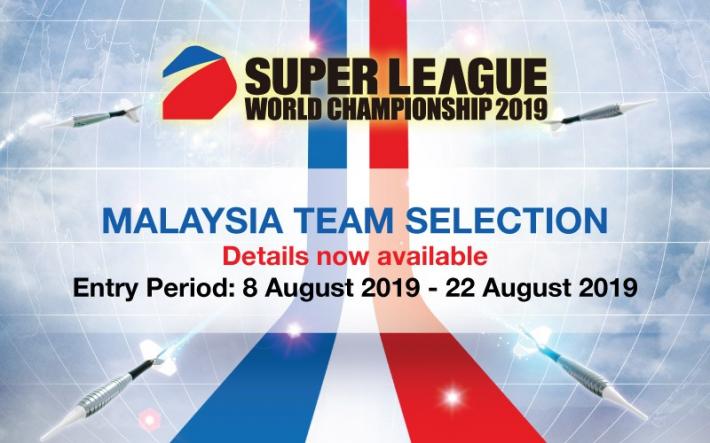 SUPER LEAGUE WORLD CHAMPIONSHIP 2019 will be happening at DARTSLIVE OPEN 2019 SINGAPORE! The SUPER LEAGUE WORLD CHAMPIONSHIP is an annual competition that determines the best SUPER LEAGUE team of the world – Each participating country will send their best SUPER LEAGUE team to represent it. The tournament is also great way to showcase players from all over the world coming together in the name of Darts!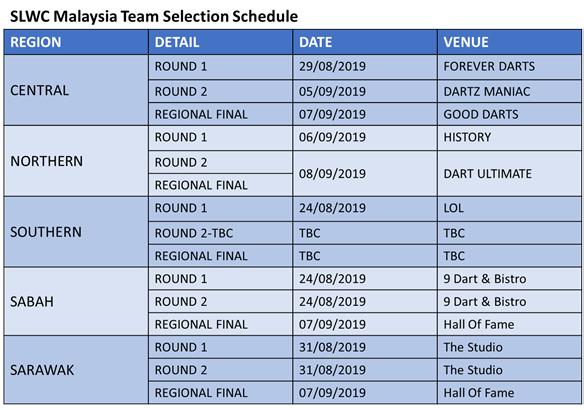 ■ Information
For players rating 12 and above* and have taken part in the following league(s) to join us in the first step to National Glory!
– SUPER LEAGUE SEASON 4
– SUEPR 2 SEASON 4
– SUPER 2 SEASON 5, min 10 league games played (except Sabah and Sarawak)
Registration Opens: 08 August 2019, 3PM
Registration Closes: 22 August 2019, 3PM
(Registration is closed on the first-come-first-served basis, or prior to the stated date and time if slots are fully taken)
■ Registration Method
Central / Northern: https://tinyurl.com/SLWC2019-MY
Entry Fee: MYR 50
Re-entry Fee: MYR 25
Southern: https://tinyurl.com/SLWC2019-MY
Entry Fee: MYR 50
Re-entry Fee: MYR 20
East (Sabah & Sarawak): Contact Larry +60 16-973 3188
Entry Fee: MYR 100
Re-entry Fee: MYR 50
■ Game Format
Pentathlon
*Max no. of players per stage: 8/10 Players
■ To note:
*Round 1 & Round 2 – Qualifiers from each Round will proceed to the Grand Finals
*Grand Finals – All the Qualifiers (from each round) will battle for the 1 spot to represent TEAM MALAYSIA!
*Exclusive National Team Jersey for TEAM MALAYSIA representatives proudly sponsored by Teams-iD
Please give us 5 to 7 working days to review your registration and we will be contacting you regarding the Entry Fee payment for your registration by email.
*Entries are strictly non transferrable or refundable.