SUPER LEAGUE WORLD CHAMPIONSHIP 2018 Team Malaysia Selection is now open for entry!

"SUPER LEAGUE WORLD CHAMPIONSHIP 2018" will be held in Singapore on Saturday March 31.
"SUPER LEAGUE WORLD CHAMPIONSHIP" decides the best SUPER LEAGUE team of the world among the teams that won SUPER LEAGUE across the world.
■Tournament Date
31 March 2018, Saturday
■Venue
MAX ATRIA @ SINGAPORE EXPO
Garnet Ballroom
Address: 1 Expo Drive, #02-01, Singapore 486150
"DARTSLIVE OPEN 2018 SINGAPORE" will be happening concurrently from Friday March 30 to Sunday April 1.
The official website will be released soon! Stay tuned for updates!
———-
TEAM MALAYSIA SELECTION INFORMATION
Inviting all players rating 10 and above and have taken part in the following league(s) to join us in the first step to National Glory!
SUPER LEAGUE SEASON 2
MY PREMIER SEASON 1
SUPER2 SEASON 2
Registration Details
Registration for each stage is based on a first-come-first-serve basis.
Registration Opens: 30 January 2018, 3PM
Registration Closes: 18 February 2018, 6PM
Selection Schedule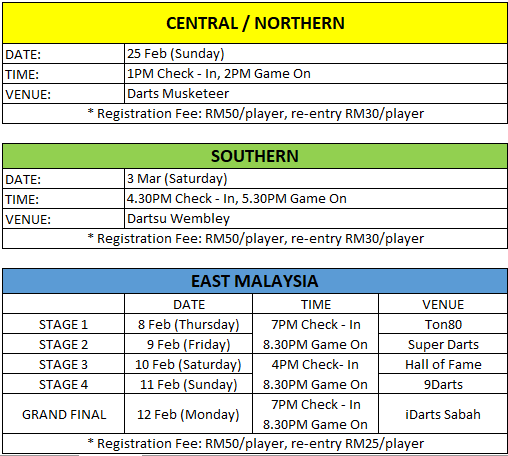 **Updated as of 2 February 2018
* Game Format: Pentathlon System
* Please note that number of qualifiers will determine the pentathlon stages
* Top 2 Players from CENTRAL/NORTHERN stage will represent TEAM MALAYSIA
* Champion from SOUTHERN will represent TEAM MALAYSIA
* Champion from EAST MALAYSIA will represent TEAM MALAYSIA
* Exclusive National Team Jersey for TEAM MALAYSIA representatives proudly sponsored by Teams-iD
CENTRAL/NORTHERN: >> CLICK HERE for REGISTRATION <<
SOUTHERN: >> CLICK HERE for REGISTRATION <<
EAST MALAYSIA: >> CLICK HERE for REGISTRATION <<