The 2nd App THEME "BULL COUNTER" to be available for purchase on Nov.2 (Mon)
The App THEME to help you become a stronger dart player
Following the 1st "LIVE STATS"' the 2nd "BULL COUNTER" is coming on Nov. 2(Mon)!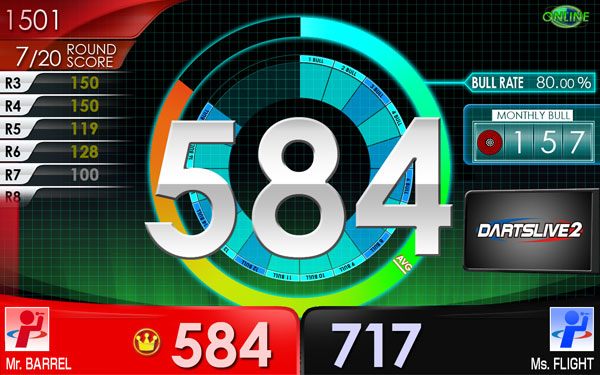 ■What's BULL COUNTER?
This App THEME has many features to assist you to aim BULL more precisely.
This THEME can change ordinary games to an effective practice mode.
Outer circle: It shows Bull rate in the game and its average. So you can set your goal easily!
Inner circle: It shows no. of Bull in the game. The whole circle equals to 1000 pints of BULL! Different colors are applied to single and double BULLs.
Easy to grasp your BULL tendency!
You can see your achievement clearly as your monthly BULL total appears on the game screen.
【Start of Sales】 Nov. 2(Mon)' 2015
【Required Coins for Purchase】 800 Coins (20%OFF for PREMIUM members)
【Purchase Location】 "THEME" on the Members' top page
【Applicable Games】 01/COUNT-UP/EAGLE'S EYE
■Free trial version!
The trial version of "BULL COUNTER" will be yours for free during the time period below.
【Campaign period】 Nov. 2(Mon) to 06:30 am on Dec. 1(Tue)' 2015 *Japan time
【Usage limit】 Up to 5 times
*Your usage is counted at the start of the game.
No coin adjustment will be made for any interrupted connection or ending the game before its completion.
Prior to the regular version' DARTSLIVE OFFICIAL PLAYER is now receiving "BULL COUNTER for DARTSLIVE OFFICIAL PLAYER".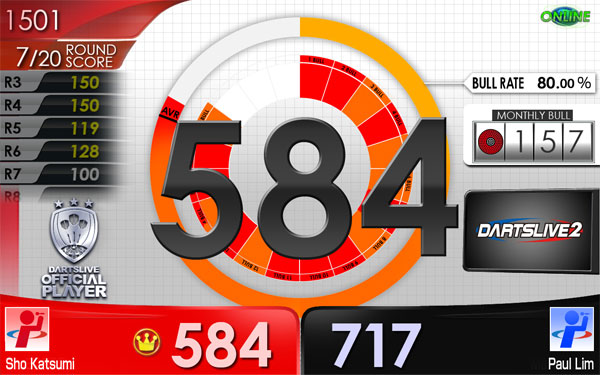 Usage reports will be released soon! Don't miss them!
>>What's DARTSLIVE Coin?
>>The 1st app THEME "LIVE STATS"
For purchase' visit "THEME" on the Members' top page.