【PDC】Post-tournament comments from DARTSLIVE OFFICIAL PLAYERS.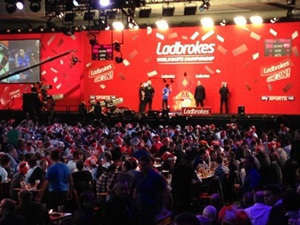 DARTSLIVE sealed a partnership with Professional Darts Corporation(PDC).
Four players from DARTSLIVE OFFICIAL PLAYERS competed in the PDC World Darts Championship in England.
Among several tournaments hosted by PDC, this competition decides the world's best player of the steel-tip darts.
Each player shared their thoughts after their participation in the worldwide tournament:
■Paul Lim(Singapore)
Unfortunately I lost, although my condition was good in the practice.
I need to adapt myself more to the atmosphere of the big tournament.
You have to outperform yourselves in order to win in the PDC. 
For future PDC tournaments, I need to learn, experience more and enhance my performance. In that sense, this competition has been a very good experience for me.
■Haruki Muramatsu(Japan)
Although there was not much difference in the atmosphere of the tournament every year, I get nervous on the stage.
Honestly speaking, I am relieved to be able to win in the preliminary round match as all the Japanese players made it in the past including myself.
I thought I could beat the outstanding player, Simon Whitlock in the 1st round. So it is frustrating as I couldn't do so. I should have had a stronger determination to compete in the PDC tournament. For this year, I will keep practicing while paying more attentions to the PDC's top players.
■Lourence Ilagan(Philippines)
I am happy that I made it through the preliminary round although I lost in my first-round match.
I heard that PDC players will compete in THE WORLD 2013. So I will work harder to get the championship title.
■Darin Young(USA)
Obviously, it was not a good result in the end, but I had good moments.
It always feels good to play in this event, as this is the topnotch, great and well-run darts event.
************************
PDC World Championship final was held in London, UK on January 1, 2013
Phil Taylor and Michael van Gerwen proceeded to the final. Taylor got consecutive five sets overwhelmingly in the latter half although 23 year-old Van Gerwen started brightly. Taylor claimed unprecedented 16th world darts title in the PDC World Championship this year.