<2013 'Let's Make Friends in New Year'> Campaign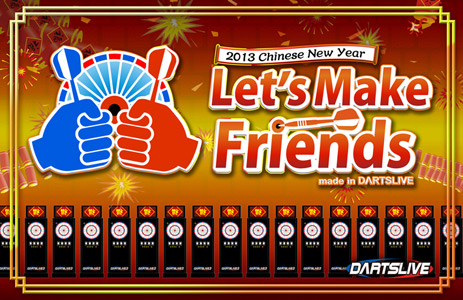 Happy New Year to everyone! Another year has come. What is your wish for the New Year? Make a lot of new friends? Feel the excitement of the burning firecracker in the vibrant city? Both of these wishes will come true!
'Let's Make Friends in New Year' campaign will start from January 11 to February 9 (January 10 – February 8 (US, Canada)), If you had played match against 30 or more friends, you will be able to receive a Firecracker special edition theme. Hurry up, let's play a match with someone besides you and become new friends to receive the Firecracker special edition theme together, and let's burn up the firecracker while playing match with your new friends!
For this campaign, you instantly can check your result of how many friends you have made, once you've successfully made a new friend, you can check your own result instantly by logging in to your page using Smart Phone Apps. Also, if you registered your e-mail address in your account, you will be receiving your previous day's game report by e-mail everyday, and from this report, you can also check how many friends you've made.
Campaign Period: 2013 January 11 – February 9 (2013 January 10 – February 8 (US, Canada))
How to Enter: Players will be required to have DARTSLIVE MEMBERS CARD
Number of Friends: more than 30
Prize: Firecracker special edition theme

Campaign Outline:
During the campaign period, play the required matches of 3 LEG MEDLEY: 501-STANDARD CRICKET or 701-STANDARD CRICKET with more than 30 different players.
*Must complete whole match (win or lose) to get a count.
*Friends are counted by the number of people that you play with, not by number of games
*Singles Match only
◆This campaign is limited to valid DARTSLIVE CARD (please check your card validity & obtain the FOC 90-Days Extension Pass from our official website)
※Number of "Friends(play with)" will decrease, if opponent's D-PASS have already expired
◆When we find improper conduct of the game, prizes will not be awarded to the players
*How to check your number of friends: You can use Apps in your Smart Phone to check the total number of Friends instantly; Also can check it from the game report which will be sent to you by e-mail everyday.