DARTSLIVE × TARGET PHIL TAYLOR in DARTSLIVE ARENA ~Battle Without Borders~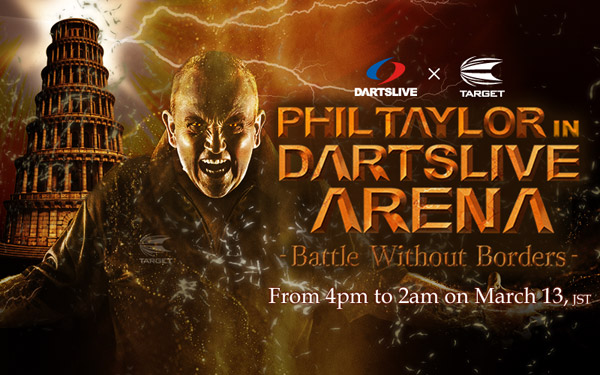 On Tuesday, March 13, Phil Taylor will join DARTSLIVE ARENA!
On this special day, all players can face each other regardless of their GRADE.
Unlikely matchups can occur. Enjoy this one-day only "Battle Without Borders"!
Furthermore, if you play DARTSLIVE ARENA at least once on the day, you will receive a limited edition DARTSLIVE THEME.
*The THEME will be available on March 14.
<Campaign Outline>
Period: From 4pm to 2am on March 13, 2018 JST
Game: DARTSLIVE ARENA
>>About DARTSLIVE ARENA
<Reward>
Limited Edition DARTSLIVE THEME (To be sent on March 14)
Requirement: To play DARTSLIVE ARENA on March 13
*Your DARTSLIVE card is required to participate in DARTSLIVE ARENA.
*As GRADE will be deactivated on the day, you and your opponent may have different grades.
*If you don't complete your match, you will not earn points.
*The limited edition DARTLIVE THEME will be sent on March 14.