【SUPER DARTS 2018】Shuichi Enokuma and Shingo Enomata will participate from JAPAN 2017.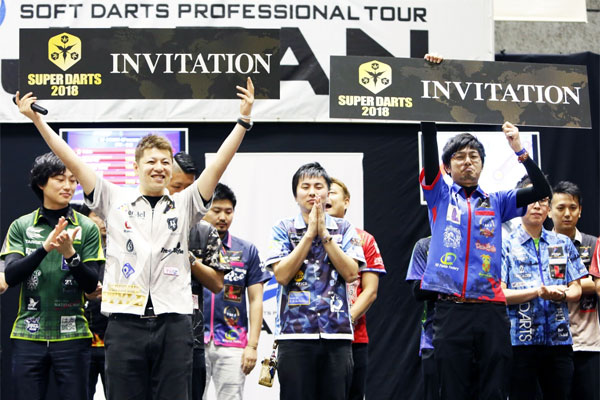 Two players secured their spots in SUPER DARTS 2018(Thu Mar 15 and Fri Mar 16).
They clinched their SUPER DARTS spots as CHAMPION of RED SEASON and highest ranked player (besides the two already in SUPER DARTS) of the Annual Rankings of JAPAN 2017 in JAPAN STAGE 18 that took place in Okayama on Fri Feb 11.
The players' names were announced at the closing ceremony of JAPAN 2017 season.
Each announcement of the player was met by sweeping cheers and applause from fans and fellow players.
Shuichi Enokuma: From RED SEASON
"I am so honored to be able to join SUPER DARTS. I am not sure how far I can go in the tournament, but I will play my best. I truly thank you for your support!"
Shingo Enomata: From the Annual Ranking
"All my hard work has paid off! I have played so hard this year and I am rewarded with this spot. To compete against the world's leading players, I will practice harder and give my all! Please root for me!"
All information regarding SUPER DARTS 2018 will be available on the official website.