Winners Announcement - Thank You for Joining COUNT-UP MORE!
2015.02.16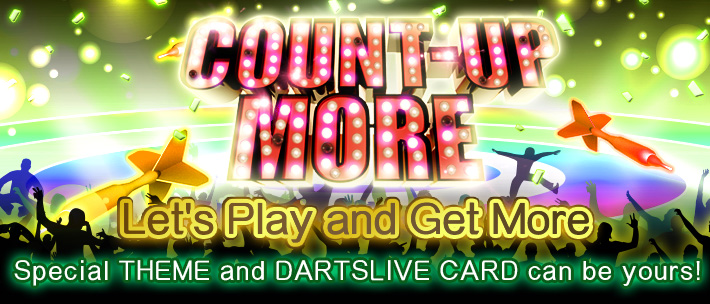 COUNT-UP MORE was finished on February 15, 2015, it has generated enthusiasm worldwide. During the campaign period, many of the master and beginner players have been granted Basic Theme* and Rich Basic Theme*. 1 standard member with the highest cumulated score and 15 lucky premium members will get the limited edition DARTSLIVE CARD.
Thank you all players for joining COUNT-UP MORE!
Let's review the result now!
Here are the lucky fellows who will get the limited edition DARTSLIVE CARD:
CARD NAME
FIRST 4 DIGITS OF DARTSLIVE CARD NUMBER
HOME SHOP
STANDARD MEMBER
Legion_Michael
2018
JEFF's BISTRO
PREMIUM MEMBERS
×*NyNy*×
1526
Crew Room
A P O L L O
1676
花鳥風月 Singapore
TITANT @ G.O.D
3924
No8 Bar&Bistro
草薙 京
2160
i Darts Halo
ノービー noobie
2169
FOREST DARTS
JOHN
1528
DARTSSoul Cafe
☆FAT★TUMMY☆
2159
GINZA PUB
Amos Ang
1678
FOREST 2
LEGIONΨWIL『K』
2157
Talk Cock Sing Song
旁门左道の笨小孩
2159
i Darts Halo
MENACE
1529
TEMPLE
死神 Anubis
2023
The Lounge
No Bo Dy
4056
HD Sports Bar
B.L.C
1023
WISER KARAOKE LOUNGE
Chelleszx
1658
Crew Room
Congratulations to the above winners! The prize redemption period is February 26 to March 11, 2015. All winners should redeem the prize at their HOME SHOP within the said period**.
After this campaign, your skill in COUNT-UP should have improved a lot. Hope you can carry on having fun in playing darts! Please look forward to DARTSLIVE's next campaign soon!
*To be a winner, you have to get both Basic Theme and Rich Basic Theme first.
**Winners have to redeem the prize within the said period, late redemption will not be accepted.