COUNT UP MEDLEY - a new medley option starting today!

DARTSLIVE is happy to announce a new game medley – COUNT UP MEDLEY!!
Currently available in Southeast Asia countries.
What is COUNT UP MEDLEY?
It will be a new way of measuring your consistency and versatility by combining the games of COUNT UP, CRICKET COUNT UP and MULTIPLE COUNT UP into a MEDLEY format.
**All 3 games will be played in this special medley settings.
There are 2 ways to determine the winner:
– by legs won (the conventional method which will be published in the APP); OR
– by total score achieved for the 3 games – higher score of the medley wins!
To celebrate the introduction of COUNT UP MEDLEY and Singapore's National Day, we will be giving out the SINGAPORE NATIONAL DAY THEME to anyone who plays 5 games* of COUNT UP MEDLEY!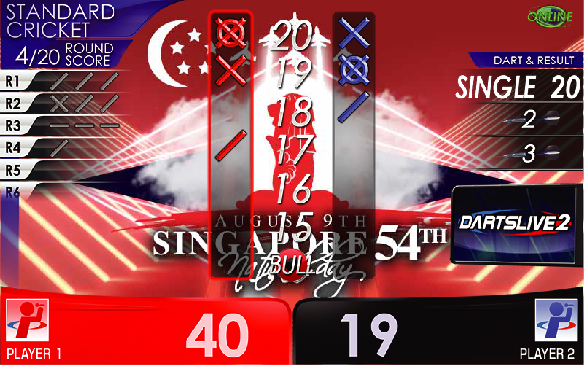 ~ Try the new game of COUNT UP MEDLEY and celebrate National Day at the same time with DARTSLIVE!
■Campaign Information
・Campaign will run from 1 August to 31 August**
・During the campaign, you may access COUNT UP MEDLEY by pressing the P4 button (simple menu)
・COUNT UP MEDLEY can be accessed at any time during/after the campaign period via: Full Menu > Official
【SINGAPORE SPECIAL】
Score more than 1800 points in the COUNT-UP MEDLEY and get a chance to win the latest DARTSLIVE OFFICIAL PLAYER Harith Lim & Leslie Lee DARTSLIVE CARD!
May Lady Luck shines on you!
*Number of games are only counted when played with a DARTSLIVE CARD
*Games played as DOUBLES will also be counted as single play count, so gather your friends!
**THEME will be given out on a weekly basis