SUPER LEAGUE SEASON 16 / SG Premier SEASON 8 - Playoff Information

SUPER LEAGUE SEASON 16 and SG PREMIER SEASON 8 is coming to an exciting conclusion very soon!
Are you going to be a part of it?
Listed are the timings for all upcoming events – Please take note of the check-in time for your division and don't be late as the walkover rule will be applied.
All the best to every player and see you at the top. Good darts!
Division Finals
・ Group Champions will progress to SKO.
・ Teams in 2nd to 4th placing (applies to all groups) will progress to the Round Robin playoff where they will play to earn their spot in the DIVISION FINALS and challenge the Group Champions!
Plate Finals
・ All 5th to 6th placing in groups will progress to the PLATE FINALS Round Robin playoff.
Division Top Gun
・ Top 3 Ranked players in individual groups will be invited to a special playoff to determine the Division's TOP GUN.
ROUND ROBIN SCHEDULE




SKO SCHEDULE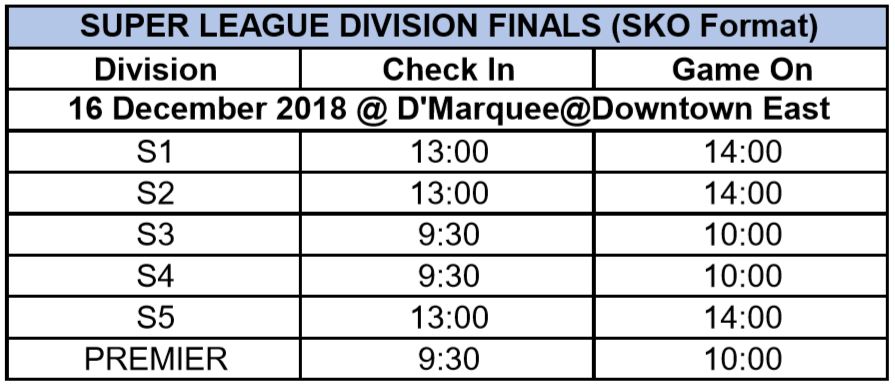 GAME FORMAT
SUPER LEAGUE SEASON 16


SG PREMIER SEASON 8


DIVISON TOP GUN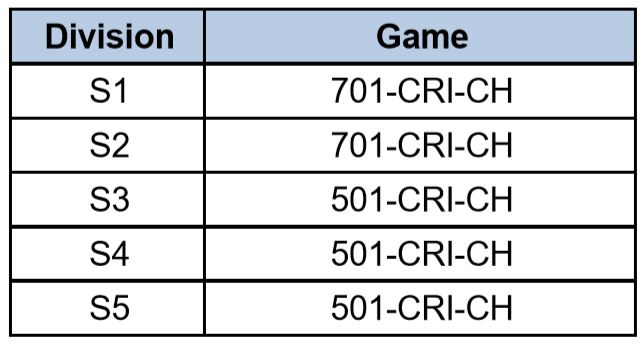 *Game format for DIVISION TOP GUN will be the same for Round Robin and SKO.
Division Final Documents
SG PREMIER SEASON 8 Division Final
SL16 S1 Division Final
SL16 S2 Division Final
SL16 S3 Division Final
SL16 S4 Division Final
SL16 S5 Division Final
Plate Final Documents
SL16 S1 Division Plate Final
SL16 S2 Division Plate Final
SL16 S3 Division Plate Final
SL16 S4 Division Plate Final
SL16 S5 Division Plate Final
TOP GUN Final Documents
SL16 S1 TOP GUN
SL16 S2 & S5 TOP GUN
SL16 S3 TOP GUN
SL16 S4 TOP GUN
*Updated as of 29 November 2018, 12.00PM