SUPER LEAGUE SEASON 14 / SG Premier SEASON 6 - PLAYOFF Information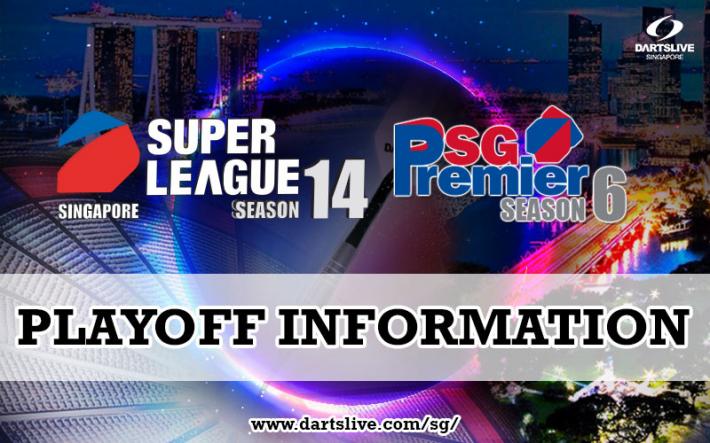 Congratulations to all the Group Champions for making it straight to the SKO and also the those teams who made it to the LEAGUE FINALS RR!
Division Finals
Teams in 2nd to 4th placing in each group will progress to the Round Robin playoff to win the spot and challenge the Group Champions in the DIVISION FINALS!


Plate Finals
Teams in 5th placing (in group of 6 teams) and 5th to 6th placing (in group of 7 or 8 teams) will progress to the PLATE FINALS Round Robin playoff!
(Only applicable to SUPER LEAGUE SEASON 14)


Division Top Gun
Top Ranked player in individual groups will be invited to a special event to determine the who deserves the title of the Division's TOP GUN. Watch out for the list and game format after the last game of the season!


All the best and good darts to all teams!
Links for LEAGUE FINAL Documents:
S1 Division
SL14-S1_DIVISION_LEAGUE_FINAL_RR.pdf (Updated)
SL14-S1_DIVISION_PLATE_FINAL-RR.pdf (Updated)
S2 Division
SL14-S2_DIVISION_LEAGUE_FINAL_RR.pdf
SL14-S2_DIVISION_PLATE_FINAL_RR.pdf
S3 Division
SL14-S3_DIVISION_LEAGUE_FINAL_RR.pdf
SL14-S3_DIVISION_PLATE_FINAL_RR.pdf
S4 Division
SL14-S4_DIVISION_FINAL-RR.pdf
SL14-S4_DIVISION_PLATE_FINAL_RR(Updated).pdf
S5 Division
SL14-S5_DIVISION_LEAGUE_FINAL_RR.pdf
SL14-S5_DIVISION_PLATE_FINAL_RR.pdf
DIVISION TOP GUN
S1 & S2 Division: TOP_GUN_DIVISION_FINAL-S1S2.pdf
S3, S4 & S5 Division: TOP_GUN_DIVISION_FINAL-S3S4S5.pdf
SG Premier
SGP6-DIVISION_LEAGUE_FINAL_RR.pdf.pdf
=============