Surprise Gift from Phil Taylor!
We are here with special news today!
Phil Taylor has sent us a surprise gift to players who has participated the GLOBAL MATCH from April to May.
We have selected random winners from players who has downloaded his special THEME, and played in GLOBAL MATCH during the CP period.
Surprise gifts are…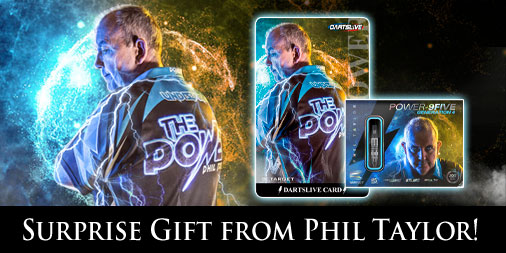 ・New Phil Taylor POWER-9FIVE GENERATION 4 Barrel set + Special DARTSLIVE CARD (20 players)
・Special DARTSLIVE CARD (10 players)
Lucky winners are below:
ひろたく
ミスター
f
だし巻きたまご
☆威廉☆
gfクワ@tata"サバナカ
ひっと
STYLE×龍之介
まっつ@Delta OMY
龍TAROS☆CafeDo
高瀬川より浅い男
ひろ
♐ ★ ♐
打到爆☆蜂族
まっこり
八丁堀同心
▿SWL✌➳™
Tetsuya Ishigur
o
にっしー
はっしー
。
Daichi
ChaN【友】@Point
STYLE×ちてにす
Lou
Seraphim
akira@feeder
tsuki
BxBハルマ
Page of Aタスク
*We will send message to your DARTSLIVE CARD PAGE. Please follow the instructions written in the message to receive the gifts.