"Hello!" will be available on Feb.4 (Tue)! ~Please download or update the app first!~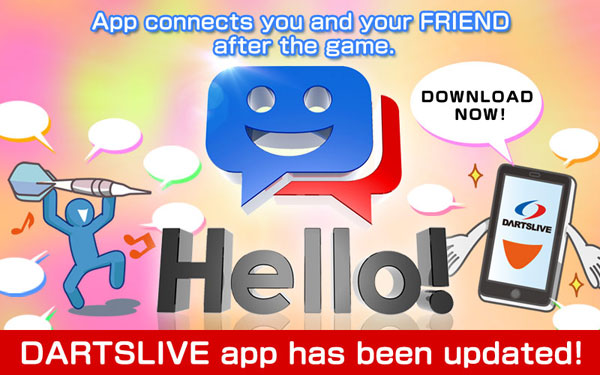 DARTSLIVE app has been updated today and new content "Hello!" becomes available!
"Hello!" is a communication app that allows you to become "FRIENDs" with people whom you played with on DARTSLIVE and enjoy exchanges of short messages and stickers.
【How to use "Hello!" 】
(1) First please download or update the DARTSLIVE app♪
(2) Accept terms of use
(3) Become "FRIENDs" with people you played with on DARTSLIVE
(4) Start App
(5) Check "FRIENDs" list
~"Hello!" features~
>>Stickers
>>FRIEND
>>FRIEND ACTIVITY
>>"Flight" and "Where now?" stickers
"Hello!" will have more features and stickers! Don't miss them♪