Limited time offer! THEME PRESENT CAMPAIGN
SOFT DARTS PROFESSIONAL TOUR JAPAN will finally start at the end of next week.
Prior to the opening, three barrel makers and one flight maker that received a price at contructors' championship in 2012 will do a collaboration with DARTSLIVE!
A limited time game "Hectic PANEL" will be available on TouchLive!
A different constructor will appear every week on a playable PANEL♪
When you play the game you will receive the same DARTSLIVE THEME as the PANEL on the spot!
4 DARTSLIVE THEMES that you can only get by playng this game. Try to get them all!
Limited time offer! THEME PRESENT CAMPAIGN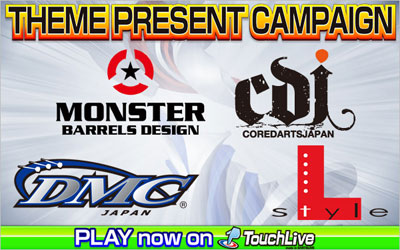 【Period】
*Time and dates are Japan time.
4/10 (Wed.) ~ 4/16 (Tue.) …MONSTER
4/17 (Wed.) ~ 4/23 (Tue.) …CORE DARTS JAPAN
4/24 (Wed.) ~ 4/30 (Tue.) …DMC
5/1 (Wed.) ~ 5/7 (Tue.) …L-Style
*The DARTSLIVE THEMES cannot be acquired if either DARTSLIVE or TouchLive is on maintenance at the end of the game.