FLASH REPORT- JAPAN 2012 Annual Ranking! JAPAN/JAPAN LADIES/Constructors
Here come the annual rankings of the most outstanding JAPAN PROs and Makers throughout the SOFT DARTS PROFESSIONAL TOUR JAPAN 2012.
■JAPAN
1 Sho Katsumi
2 Morihiro Hashimoto
3 Atsushi Matsumoto
4 Takehiro Suzuki
5 Susumu Kasuya
6 Tsuneki Zaha
7 Daisuke Akamatsu
8 Shingo Enomata
9 Haruki Muramatsu
10 Kei Usami
11 Chikara Fujimori
12 Takayoshi Kawamura
13 Kenichi Ajiki
14 Takumi Niki
15 Arashi Matsumoto
16 Yasuyoshi Matsumoto
■JAPAN LADIES
1 Yuki Takemura
2 Mariko Kimura
3 Rie Yakiyama
4 Sayuri Nishiguchi
5 Chiaki Motono
6 Atsuko Akutagawa
7 Mana Kawakami
8 Sayaka Kameo
■CONSTRUCTORS
Barrel Maker
Champion MONSTER BARRELS DESIGN

Japan PROs and Makers listed in this annual ranking will be commended at the JAPAN AWARDS 2012 ceremony on Friday, February 22.
★Qualified for the SUPER DARTS 2013!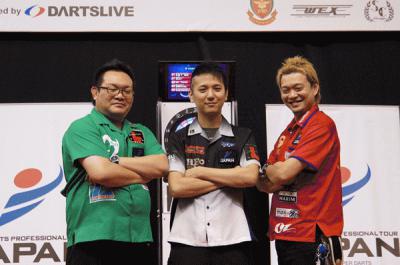 Three professional players: Sho Katsumi, Takehiro Suzuki and Morihiro Hashimoto are officially invited to the "SUPER DARTS 2013" to be held on Sunday, April 7.