"THE WORLD" Promoción Match Medley- Sorteo de premios
2013.05.24
El prestigioso campeonato mundial de dardos de punta de plástico, "THE WORLD 2013 Stage3" tendrá lugar pronto en La Rochelle, Francia del 15 al 16 de junio..
En esta campaña, del 15 al 31de mayo, estaremos dando premios a los jugadores que han jugado lo mas posible los juegos de "THE WORLD"*.
Los 10 mejores jugadores que más hayan jugado modo Medley en Europa (Francia, Bélgica, España y Portugal) recibirán los premios a continuación detallados.

Lista de premios
1ro -uniforme de Paul Lim + THE WORLD 2012 DVD
2do a 10º - termo de THE WORLD 2012 + THE WORLD 2012 DVD
El premio de los 10 mejores jugadores será enviado al local "HOME" respectivo!!
Si no te has clasificado, pero has jugado más de 10 veces durante el periodo de la campaña, por favor visita nuestro estand en La Rochelle para obtener un premio especial.
Clasificación actual: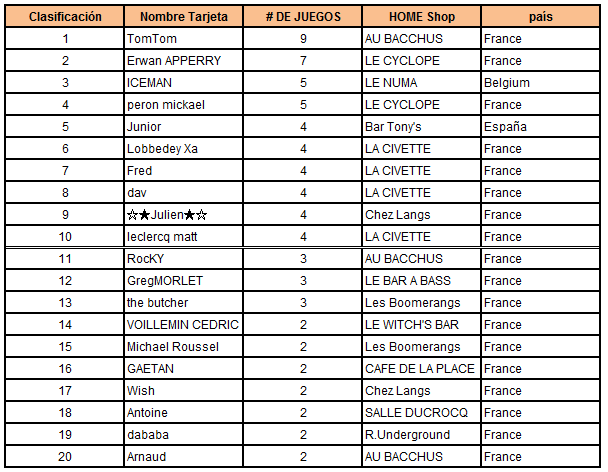 * Como navegar al modo "THE WORLD"
Simple Menu → Recommend → "THE WORLD" mode
Por favor ten en cuenta que tienes que registrar tu Local "HOME" usando tu tarjeta de miembro DARTSLIVE.