Happy Songkran 2019, Thailand!

Celebrate Songkran with us and get a limited edition DARTSLIVE Theme exclusively only in Thailand!
ร่วมฉลองเทศกาลสงกรานต์สืบสานประเพณีไทย กับพวกเรา ที่มาพร้อมกับธีมพิเศษที่พวกเราจัดให้กับประเทศไทยโดยเฉพาะ!
Campaign Period:
11 April – 30 April 2019
ระยะเวลาของแคมเปญ:
11 – 30 เมษายนนี้ 2019
What to do:
Play a game of COUNT-UP and score 412 exactly during the campaign period to get the limited edition Songkran 2019 THEME.
**Players must play with their DARTSLIVE CARD in order to get the THEME.
กติการ่วมเกมส์:
ร่วมเล่นเกมส์ COUNT-UP และใครที่ทำแต้มได้ 412 ในระยะเวลาของแคมเปญ คุณจะได้รับธีม "สงกรานต์ ลิมิเต็ดอิดิชั่น2019"
**ผู้เล่นต้องเล่นกับการ์ด DARTSLIVE เท่านั้น เพื่อรับธีมพิเศษนี้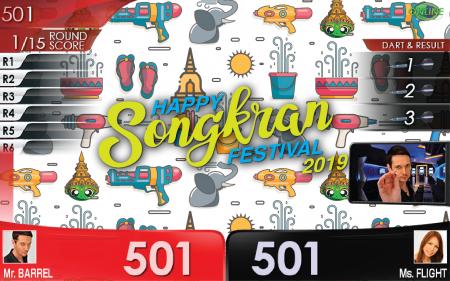 ——————————
Click on the button to check out the list of DARTSLIVE outlets in Bangkok & Pattaya: