【THE WORLD 2018】Tournament Schedule Unveiled!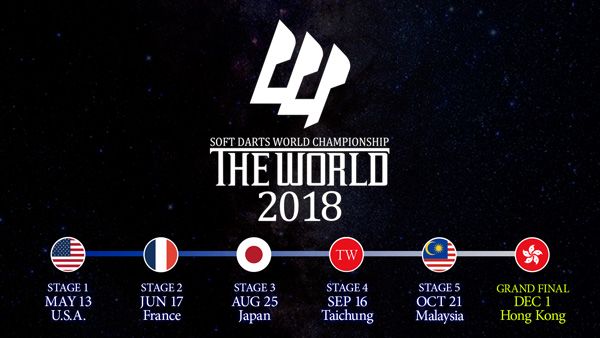 THE WORLD decides the best soft-tip darts player of the world.
The tournament circuit's 2018 schedule is now released.
In the tournament last year, over 1,000 players from more than 20 countries and regions competed to be named as the best player of the world.
Six intense stages in total will be held across the world in this 2018 season.
&t;THE WORLD 2018 Schedule>
STAGE 1 USA
Date: Sunday May 13, 2018
STAGE 2 FRANCE
Date: Sunday June 17, 2018
STAGE 3 JAPAN
Date: Saturday August 25, 2018
STAGE 4 TAICHUNG
Date: Sunday September 16, 2018
STAGE 5 MALAYSIA
Date: Sunday October 21, 2018
GRAND FINAL (Hong Kong)
Date: Saturday December 1, 2018
Exciting competitions are coming! You will be glued to THE WORLD in this year as well!
Please visit the official website of THE WORLD for details.