THEME with special BULL sound as a Christmas gift!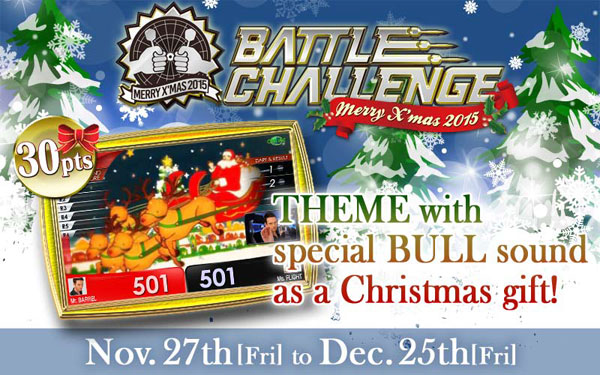 Receive DARTSLIVE THEMEs with special BULL sound that are made for Christmas 2015!
【Campaign period】
Nov. 27(Fri) to Dec. 25(Fri)
■About the campaign
Play MEDLEY matches and accumulate points required to receive the THEME
Points to be awarded
Win: 3pts
Loss: 1pt (Draw: 1pt)
Accumulate 10pts or 30pts to receive each THEME
*Match points are available only for the matches between the players who registered DARTSLIVE CARD membership.
>>Visit here for free membership registration!
■Gift
(1) Special THEME for 10pts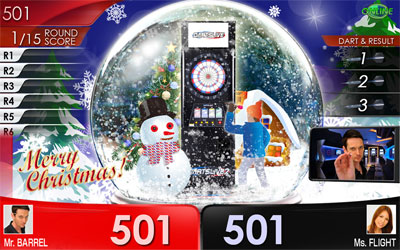 (2) Special THEME for 30pts
■How to view your match points
Your latest match points are available from "PLAY DATA" on the card page.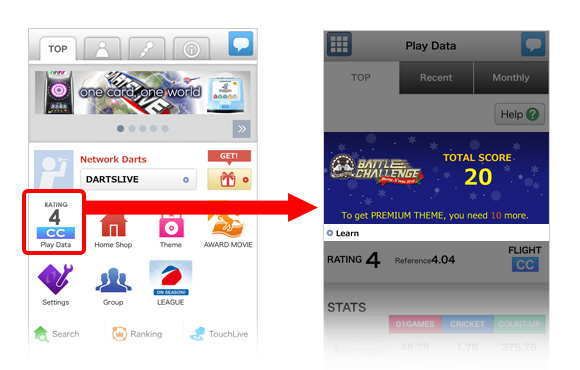 *During the campaign period' not only PREMIUM members but regular members can also view the match points.
*Please set a shop in the campaign country as your home shop.
(If you select your home shop from shops outside the campaign country' you can't view your match points.
*You will not lose your earned match points even you change your home shop to any shop outside the venue country. The points appear when you set the home shop back to the original one.)
<Notice>
・Please make sure to complete the game.
・Match points will be awarded to the match between the players who registered as DARTSLIVE CARD members (PREMIUM' STANDARD and TRIAL members) only.
・In doubles' each player of the team will receive the match points respectively.
・Any dishonest act may result in the forfeiture of the match points and DARTSLIVE THEME.
・Match points are awarded to only the matches in the campaign country.