Prize winners of DARSTLIVE FUN PHOTO PROMOTION!
2015.05.11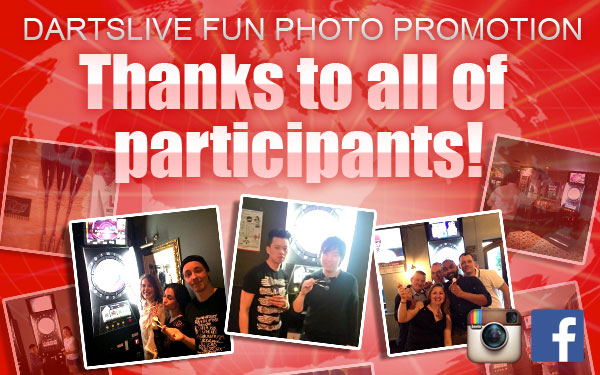 We would like to thank all customers who took part in our DARTSLIVE Fun Photo Promo that we have been running at our locations throughout the UK.
There were some great photos of you and your friends enjoying DARTSLIVE at many of our locations across the UK.
We would like to announce and congratulate the winners!
ERan l0w
kfo \(>_<)
The winners will be rewarded with a pair of tickets for the FDC Betway Premier League Final, which will be held at
The O2
on 21st May. *
For those who were unlucky not to win this time please check back on our website
www.dartslive.com/uk/
and our
DARTSLIVE UK Facebook Page
for future upcoming promotions.
*HOW TO GET THE PRIZE: Please contact us by our DARTSLIVE UK Facebook Page to collect your prize.
→
Visit DARTSLIVE United Kingdom Facebook Page
→
Follow DARTSLIVE United Kingdom on Twitter
→
Check out photos of DARTSLIVE United Kingdom on Instagram