Meet the Legend! Don't miss out Paul Lim Tour in UK!
2015.09.15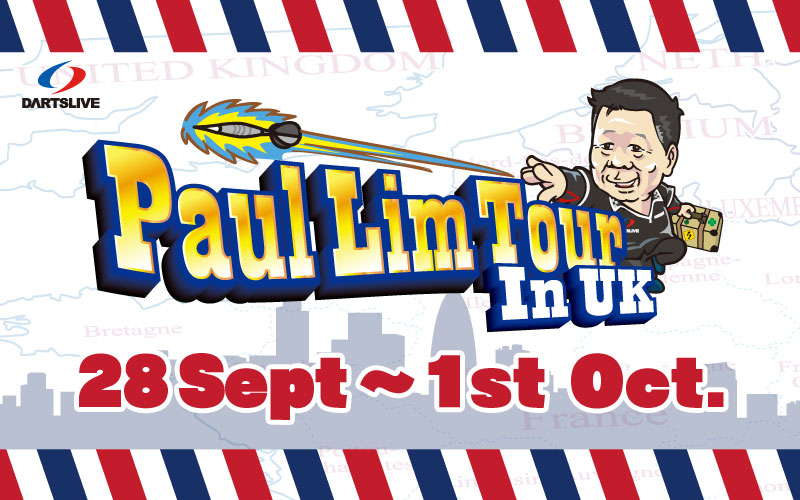 ■A chance to meet the Living Legend
The first player to achieve a perfect 9 darts finish during the Embassy World Darts Championship, grand champion of SOFT DARTS WORLD CHAMPIONSHIP 2013,winner of SUPER DARTS 2015 and countless achievements through his darts career.
It is official that the Living Legend, Paul Lim, is coming to the United Kingdom! Paul Lim will be visiting 4 of our DARTSLIVE locations to meet the fans! The tour will start on 28th September ending on 1st October visiting 4 locations.
If you are a dart fan, this is a chance you cannot miss, check the schedules and make sure you're ready!!
■Event venue and Date
・9/28 S&L Leicester SQ:6:00pm~9:00 pm
・9/29 Pho House :6:00pm~9:00 pm
・9/30 THE William Blake: 6:00pm~9:00 pm
・10/1 Clubcue Leisure :6:00pm~9:00 pm
If you can't pay a visit to the event venue, just prepare a registered DARTSLIVE members card and go to the nearest location. Go into our Global Match function on the machine, and look for Paul Lim during the event period!
*Check your nearest location
■What is GLOBAL MATCH
Global Match is an online function which enables you to play either Singles or Doubles 701 or Cricket, online against players around the world in countries which have DARTSLIVE.
Stay tuned for our next announcement and how to play GLOBAL MATCH will be revealed!