DARTSLIVE UK CHALLENGE - King of Cricket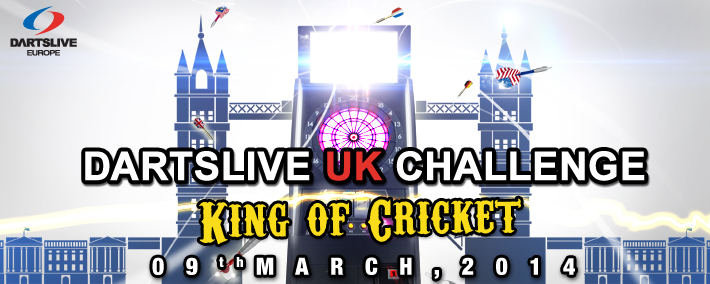 Details:
Date: 9th March, 2014 (Sunday)

Registration time: 14:00

Start Time: 15:00 

Location: The Slug and Lettuce

Address : 5 Lisle Street , Leicester Square , WC2H 7BG , London , UK
Total Guaranteed Payout: £500
Entry fee: £10 per person (no coin drop needed to play)
Max : 32 people
Entry rule:
A minimum 30 games of '01 and Cricket need to have been played within a 3 month period (DARTSLIVE rating) 

Entry on Facebook : https://www.facebook.com/DARTSLIVE.UK

Entry by Email : inquiry_uk@dartslive.com
Prize
Champion: £300 

1 runner up £100 

2nd runner up: £50
Game Format & Rules
Best of 5 match: Cricket/Cricket/Cricket. Single Knock Out

* Seeding based count-up score
Pre-Match Practice Throws
Each player may take 2 rounds of practice throws (6 darts each) before the match.
Throwing Order of the Game
Throwing order will be decided by corking, automatic coin toss function of DARTSLIVE2 will decide the player who throws for the bull first.
A player's dart must stay in the board to count and are not removed (unless the first player's dart hits the exact centre dot of the Bullseye), the player nearest to the centre will go 1st.
In the second leg, the player who lost in the previous leg will throw first.
If the score is 1-1 in legs, players throw for the bull again and the winner of the cork can choose either to "throw first", or "select a game" and go 2nd.
Cricket Game Rules
Standard Cricket will be used for this event.
Round Limit: 15 Rounds
If neither player finishes the Cricket game, a player with the highest score wins the game. If both players have the same score, then the Cork rule applies. The one who throws closest to the center of the BULL wins the game (the same throwing order as the beginning of the game is used).
How to amend incorrect scoring
If a dart machine incorrectly records the score and if a dart thrown is remaining on the board, "Reverse-A-Round" function will be used to reverse the score. Correct points will be entered by pressing the appropriate target segment. If a dart thrown does not stick in the board and falls off, dart machine reaction (points) will be considered as a valid score.
Please be aware that incorrect scores cannot be amended, if darts stuck in the board are removed.
In case the game has to be suspended and restarted for reasons such as a power outage, with mutual consent of players, event staff will restore the game scores and progress. If it is not possible to restore the game, the leg in question will be reset and players will be asked to restart a new game.
Note: darts are not counted if darts are thrown when "player change" has not been pressed by the previous player or darts are thrown too quickly before the machine has set.