Bet on THE WORLD with Bodugi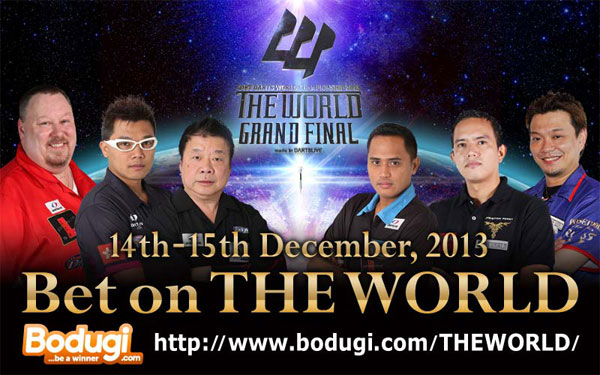 Now, viewers can enjoy THE WORLD, even more with Bodugi!
All bets can be placed through Bodugi.com from today, Dec. 3rd.
Bet on THE WORLD with Bodugi, and add more excitement to the game!
6 Pool bet markets:
・Outright winner from when the 100 GRAND FINAL players are announced (can bet from Dec. 3rd until the play starts on Dec. 14th. The bets will be settled after the Final on Dec. 15th).
・Outright winner at last 64 stage (Spanning the elimination and Final rounds).
・Outright winner at last 8 Stage (Spanning the Final round)
・Quarter Final match betting
・Semi Final match betting
・Final match betting
THE WORLD 2013 GRAND FINAL will be held on December 14th and 15th.
For more details, please visit below websites
*The Bodugi service introduced in this page is a service provided by Bodugi Limited.
The Bodugi service is a service which constitutes gambling.
You are prohibited from using the service if gambling is prohibited by the applicable laws and regulations, etc., in your country.
Please use the Bodugi service at your own responsibility upon confirming the warnings stipulated by Bodugi Limited.
Please forward any complaint, problem or any other inquiry concerning the Bodugi service to Bodugi Limited.
Please note that THE WORLD SOFT DARTS ASSOCIATION assumes no responsibility whatsoever for the Bodugi service.