【DARTSLIVE OPEN 2018 USA】DARTSLIVE OPEN 2018 USA's Website is now live!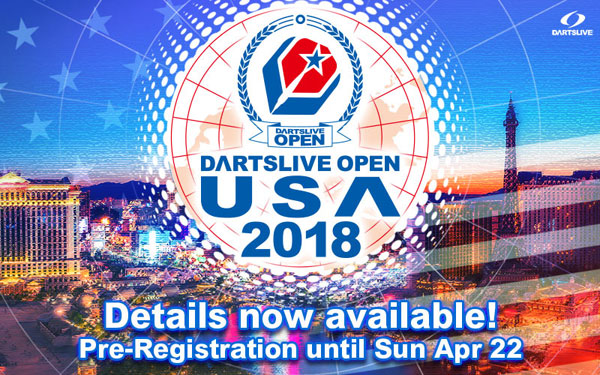 The website for the DARTSLIVE OPEN 2018 event in Las Vegas is up!
■Date
Thursday May 10 – Sunday May 13, 2018
■Venue
Plaza Hotel & Casino
Address: 1 S Main St, Las Vegas, NV 89101
■Entry period
Until Sunday April 22, 2018
The event will run for four days from Thursday, May 10th to Sunday, May 13th.
Over the course of four days, up to $174,000 in prize payouts is on the table!
Keep your eyes open for further details about the venue, event registration, and hotel reservations.
The pre-registration period runs until Sunday, April 22, 2018 and includes entry to the following events:
Doubles Parity, A,B,C Trios Draw, 4-Person Team Bring, and Doubles Bring.
Save yourself the hassle of waiting in line (and save $50 if registering for all events) by pre-registering!
>>You may pre-register here
>>See our facebook event page for more information
See our website below for details about on-site registration.
For further questions, please feel free to contact us at us_inquiry@dartslive.com
Click here for DARTSLIVE OPEN 2018 USA official website.