Schedule announcement for SUPER LEAGUE Season 3 Fiesta!!



Are you ready for a great time at Las Vegas?
Here is some information about the weekend of SUPER LEAGUE Season 3 Fiesta.
Registration Fees is optional, however, those choosing not to pay the registration fee will not be allowed to participate in any of the side events.
You don't really want to miss out on the extra fun! $40 Standard Members and $20 for Premium Members.
■Events available at Season 3 Fiesta
-4-Pronged Parity Draw: Best of 5, Single Elimination
-SL Round Robin: Best of 5, All games must be played
-Fiesta Pairs: Group A (22 point cap) Group B (16 point cap), Best of 5, Single Elimination
-SL Knockout Finals: Race to 3
-Consolation Tournament: Best of 3, Single Elimination
There will also be the X-treme Bull Challenge, Fiesta Games, and Sweet 16's. A weekend packed with fun for everyone.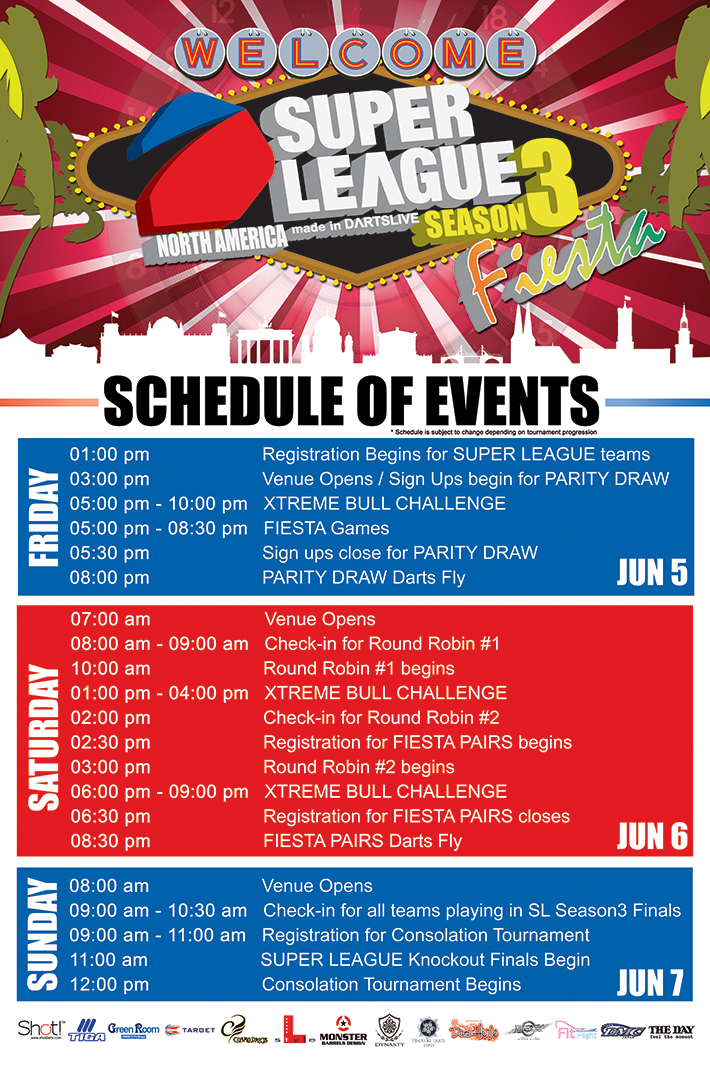 THE WESTGATE LAS VEGAS RESORT & CASINO
We want to welcome you to the New, Exclusive, DARTSLIVE SUPER LEAGUE Fiesta location!
The Westgate Las Vegas Resort & Casino! We have had a chance to review the rooms and they are fabulous!!
Here is the information that they have provided to us.
GROUP CODE

:
SDART5R
WEBLINK

:
https://resweb.passkey.com/go/

SDART5
Premium Rooms are available at $55 per night
Signature Rooms are available upon request for an additional $20 per night
Resort fee is optional… But, here is what you get!!
$22.00 plus 12% tax ($24.64 daily) Includes:
-Wireless internet access – TWO devices throughout the resort (excludes convention center)
-Free Local/800 calls
-Access to Cardio room – two adults per day
-Use of in-room safe
-$5.00 Resort credit towards a future stay at the Westgate Las Vegas Resort & Casino.

By providing the group name, individuals will also be able to make reservations by calling 1-800-635-7711 between the hours of 6:00am to 11:00pm daily. Reservations must be made on or before the cut-off date of May 22, 2015 in order to be eligible for the group rate.

Current Rates are averaging $66.97 per day without the group rate.
Come Join Us for a Fiesta of a Weekend!!!
Follow us @