What is your best match of THE WORLD 2013?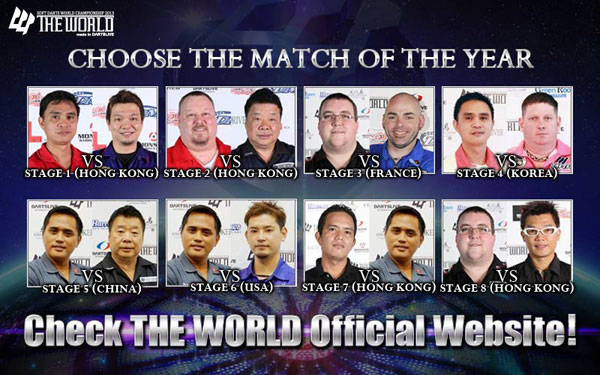 Vote for the best match of the year from each FINAL MATCH of STAGE 1 to 8 of THE WORLD!
The most voted FINAL MATCH will be named as "MATCH OF THE YEAR"
How to vote:
1.Voting is available with Facebook app.
2.Give a "Like!" on your best FINAL MATCH movie of STAGE 1 to 8
3.All voters will be entered in a drawing and 10 winners will receive a DARTSLIVE CARD signed by the 2 players of the selected match!
The 2 players of the highest number of Likes will be commended at THE WORLD 2013 GRAND FINAL.
Voting period: Dec.3 (Tue.) to Dec.10 (Tue.)
Announcement of the result: Dec. 13 (Fri.)
>>Click here for more information about THE WORLD 2013 GRAND FINAL