Icons of THE WORLD's players will be available!!
THE WORLD 2013 GRAND FINAL will be held in Hong Kong as well on Dec.14 (Sat) to 15 (Sun).
As a special project, the icons of THE WORLD players will be available for a limited period!
Go to the shop, look for the icons and request a game on the GLOBAL MATCH
You may be able to compete with the player of your dream♪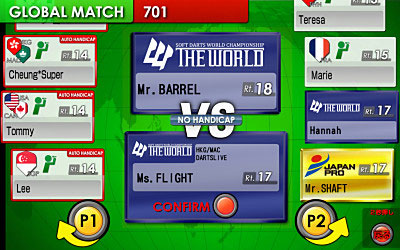 ■Period:Dec.2 (Mon) to Dec.15 (Sun)
Easier to find THE WORLD players from the player listing on the matching screen of "GLOBAL MATCH" on DARTSLIVE2 as they are framed in navy and accompanied with the icon of THE WORLD logo on the top.
*Available only with THE WORLD player DARTSLIVE CARD