October Medley Campaign Winners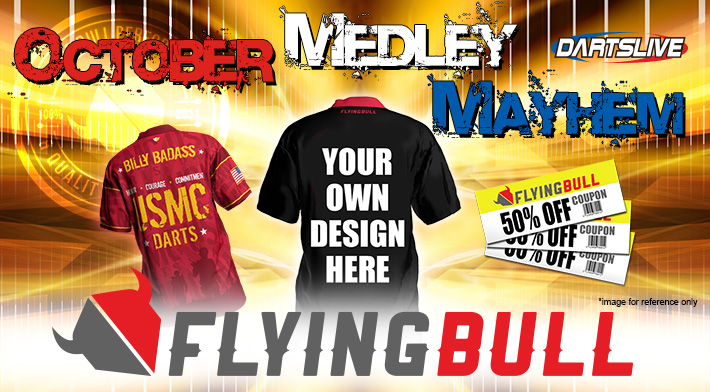 After a long month of a Mayhem of Medley matches, we have determined our Top 10 winners!
8 winners will receive a 50% off coupon to spend at Flying Bull, and the two GRAND PRIZE WINNERS will receive a custom dart shirt that can only be won through playing DARTSLIVE!
First of all, THANK YOU to Flying Bull Dart shirts for providing these wonderful prizes to USA and Canada! Please visit them when you need your next custom dart shirt!
Congratulations to Shaker Sara ("$ DON'T BE CHEAP$") who is the owner of the Sultans Hookah Bar! The standings were extremely close the last day, but with a last minute effort, Shaker was able to edge out his competition by ONE GAME for USA's Medley Ranking!
"TYANG" has a strong run through the month by finishing as the top ranker of Canada's Ranking by maintaining his position for an amazing 4 weeks in a row!
"$ DON'T BE CHEAP$" (USA #1), "TKO"(USA #2), "TYANG" (Canada #1) and "PSENN"(Canada #2) will receive a full custom dart shirt from FLYING BULL for winning 1st & 2nd place in October Medley Mayhem!
Here are the results: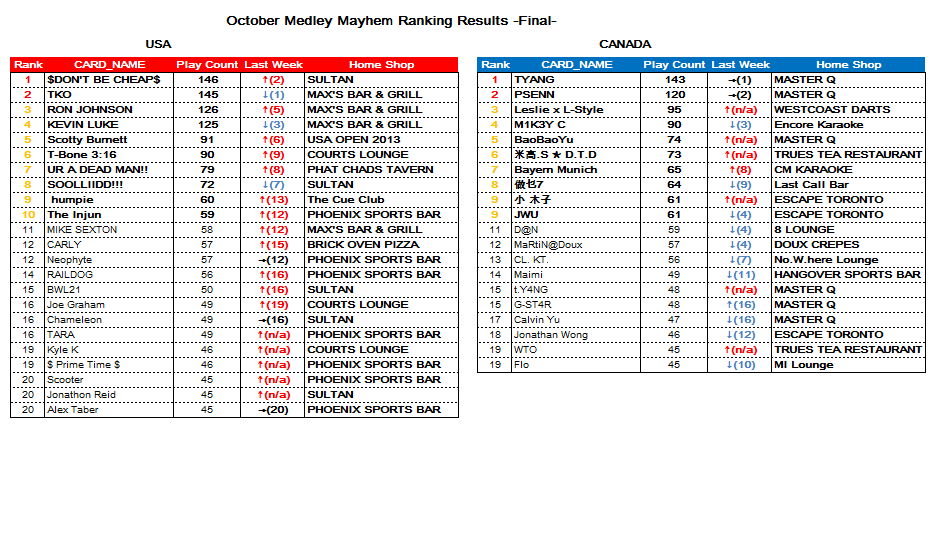 November will be the Rating Up Campaign which has started just today! There will be prizes that you can't buy in stores! One Card, One World!
To learn more about Rating Up Campaign, please CLICK HERE!