November Rating Up Campaign starts!!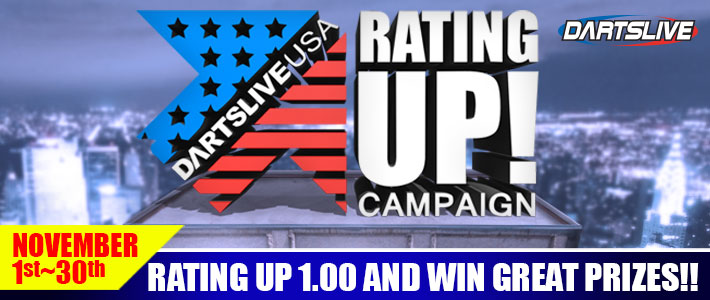 Here we go! November's Campaign is here and DARTSLIVE USA is ready to give out some cool prizes to the winners. First off, we would like to thank all of the PayPal users that have continued to pay for our service every month. We are glad that you utilize all of the functions our servers have to offer! This one's for you!
If you are playing DARTSLIVE and paying $5 a month to be a member, then you will have a great chance to win a special prize that you can only receive by playing DARTSLIVE. This month if you can increase your rating by 1.00, then you will go into a drawing for some cool prizes!
***Campaign Information***
■ Campaign period:
Campaign runs from November 1st – 30th (Until Maintenance Time)
■Prizes you can win
–Limited "Rating +1.00" THEME will be rewarded to all the players who have achieved to raise their Rating by +1.00 during November!
-Players who have achieved +1.00 Rating will also have a chance to join the draw for Limited Design Rating Campaign Prizes!!!
*Prizes will be announced weekly, so don't forget to check our website or your card page everyday!
■ How to join Campaign:
Raise your Rating during the month of November (11/1~11/30) to win Limited Edition Prizes!!
*Players must be a Paid member to join this Campaign. If you're not sure whether you're a Paid member, please refer to the below instructions.
■ How to become a Paid Member
To become a paid member please follow these steps to get set up:
1. Make sure you have a Registered DARTSLIVE CARD
2. Log in to your card on our website (www.dartslive.com/us)
3. Click on SETTINGS
4. Click on Payment Options and select Pay with PayPal
5. Follow the instructions to add a payment option for the DARTSLIVE Services
6. Play '01 and/or cricket games against another player for rating to change
Let's all get our Rating Up!!
Gaaaame On!