Weekly Update for October Medley Mayhem -Week #1-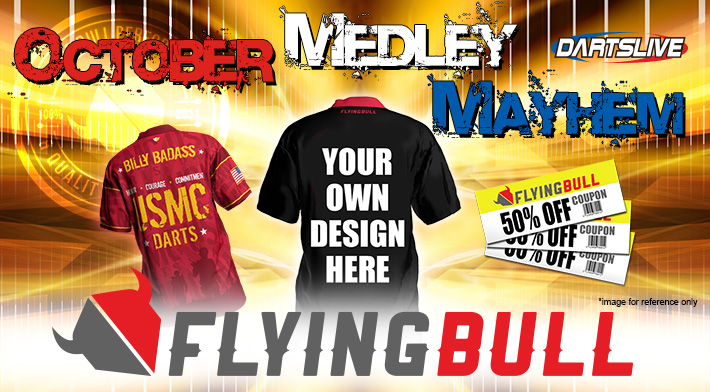 We are nearing the half way point of the Medley Mayhem October Campaign. The top 2 winners will receive a custom dart shirt and 3rd place through 10th place will receive a 50% coupon to design any shirt of your choice.
To win is simple! Play the most number of MEDLEY MATCHES. It does not matter if you win or lose, the top 10 people that play the most MEDLEY MATCHES win!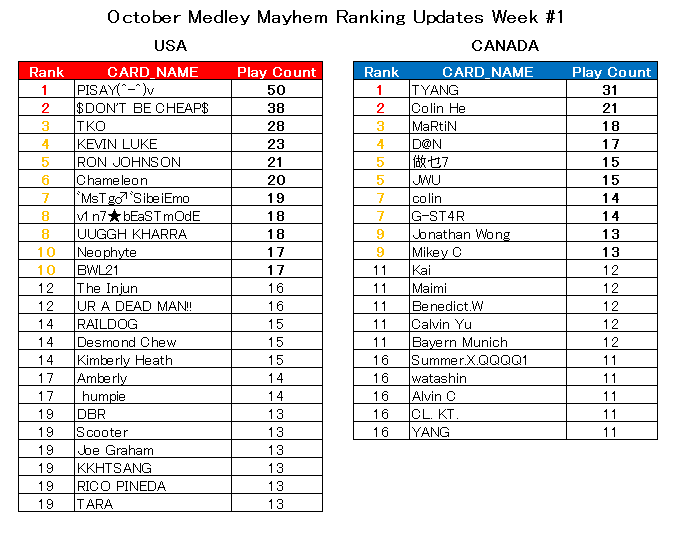 Contest ends on October 31st at maintenance time (Approximately 2:30pm PST)
Play some more MEDLEY Matches and have a chance to win!
A huge THANK YOU to Flying Bull Darts Custom Dart Shirts for the Prize Donations this month!
***How to join October Medley Mayhem***
-Get your own DARTSLIVE CARD (with valid membership period)
-Put your DARTSLIVE CARD in the dart board
–Play as many MEDLEY MODES as possible (3 Legs/ 5 Legs/ 7 Legs) against someone else with a DARTSLIVE CARD
-Play the most matches and win the GRAND PRIZE!
***What you can win>***
1st Place- Grand Prize Flying Bull Custom Dart Shirt
2nd Place- Grand Prize Flying Bull Custom Dart Shirt
3rd Place- 50% off Coupon for Flying Bull
4th Place- 50% off Coupon for Flying Bull
5th Place- 50% off Coupon for Flying Bull
6th Place- 50% off Coupon for Flying Bull
7th Place- 50% off Coupon for Flying Bull
8th Place- 50% off Coupon for Flying Bull
9th Place- 50% off Coupon for Flying Bull
10th Place- 50% off Coupon for Flying Bull
*The Ranking is according to the number of game plays of MEDLEY MODE